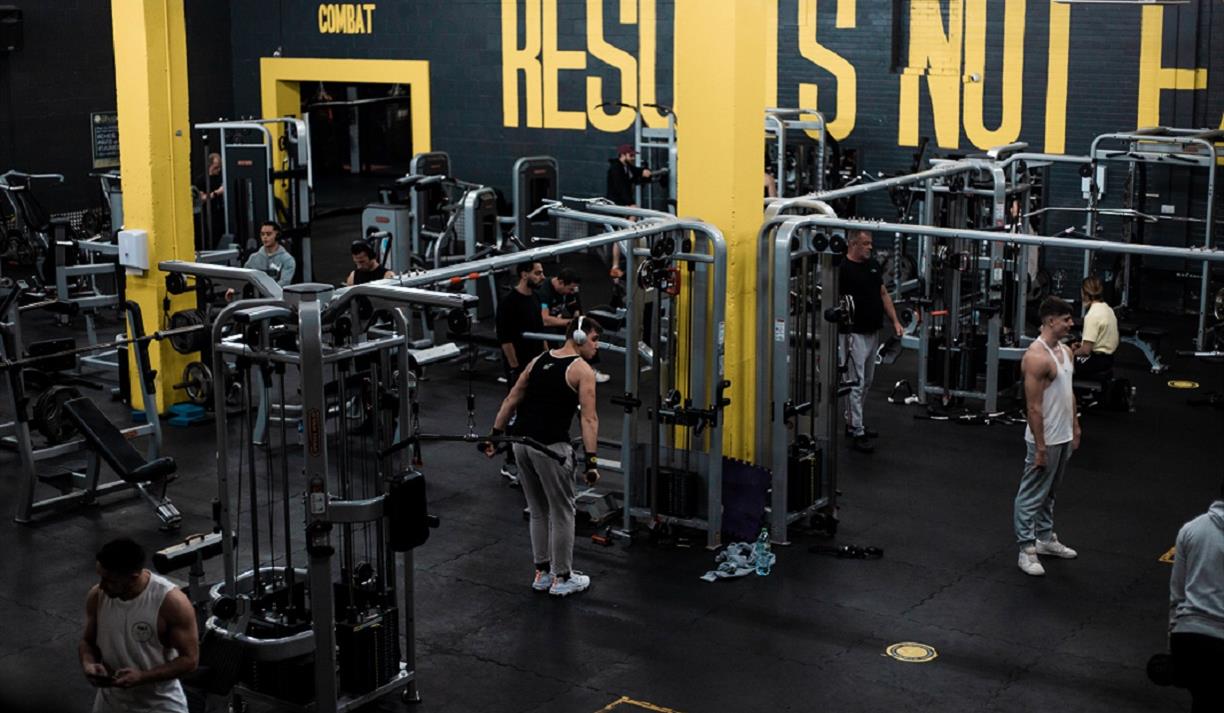 About
Take your fitness and physique to the next level. Underground Gym Brighton boasts a diverse range of premium gym facilities, giving you everything you need to transform your body and change your life. Our Brighton gym forms the heart of Underground Gym – the best independent gym chain in the South of England. We give every single of our members and gym attendees access to a huge range of equipment alongside an ever-growing list of group classes, tailored personal training programs that cover both training and nutrition, premium supplements, and so much more.
We've created Underground Gym to be your fitness haven – discover a stronger, fitter, and more confident you, and do it as part of a friendly and supportive community of other members and the Underground Gym team. It's the ultimate fitness playground that lets you train and develop your health and wellbeing, whilst access to facilities for a wide range of disciplines including bodybuilding, powerlifting, Olympic lifting, calisthenics, boxing and other combat sports, cardiovascular training, and so much more.
When you join us, we'll give you a FREE personal training session to give you the perfect kickstart to your fitness journey. Plus, if you'd like to continue your PT sessions, we can provide flexible, tailored PT packages that are built entirely around you and your goals.
You'll become a valued member of the Underground Gym family when you join us, regardless of your chosen membership package. We pride ourselves on our friendly, welcoming and supported community, and its part of the reason as to why we're the trusted gym for both new fitness fanatics and professional athletes alike.
Discover the gym that gives you real results – contact us today to book a tour or find out more.
Book Tickets
Opening Times
* Mon-Fri: 05:00 - 22:00
Saturday: 06:00 - 20:00
Sunday: 08:00 - 17:00
What's Nearby
Meet the makers of small-batch, premium Brighton Gin with a behind-the-scenes tour of our…

0.31 miles away
Lagoon Watersports is one of the country's premier watersports centres offering powerboat…

0.58 miles away

Hove Museum is one of the most family friendly and accessible museums in the south east.…

1.28 miles away

A hexagonal smock mill on top of flint tower and barns dating from the 1820's with the…

1.56 miles away

One of Brighton and Hove's leading beauty and urban day spa. Good SPA Guide Regional…

1.61 miles away

Hove Plinth is a brand new cultural attraction on the historic Hove seafront - a new…

1.85 miles away

Whether you are looking for gentle relaxation or relief from muscular aches and pains our…

1.85 miles away

The 1st Central County Ground in Hove has been the home of Sussex Cricket since 1872, and…

2.04 miles away

Re-balance your mind, body, and soul with outdoor yoga, hiking and forest bathing in and…

2.09 miles away

The Regency Town House is a grade 1 listed terraced property of the 1820s, built as a…

2.31 miles away

Performances, gigs, theatre, dance, events; the Old Market, recently renovated, is a…

2.35 miles away

Brighton Open Air Theatre (BOAT) was the vision of local playwright Adrian Bunting, who…

2.49 miles away
Previous
Next