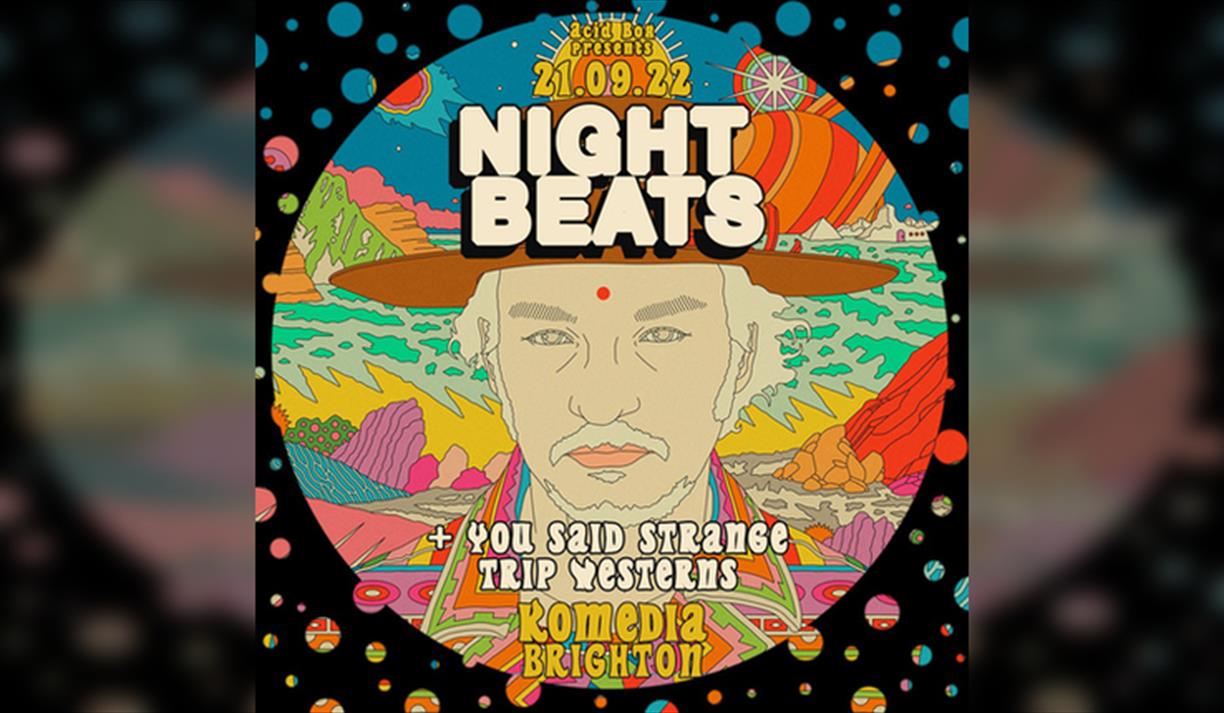 About
Night Beats On May 7th 2021, Night Beats – the Texas-born brainchild of Danny Lee Blackwell – released their fifth full-length, 'Outlaw R&B', via Fuzz Club Records. Made during the height of the California wildfires (where Blackwell currently resides), rioting in the streets and a nation in lockdown, the raucous technicolour rock'n'roll of 'Outlaw R&B' is a call to rejoice in some sorely needed post-apocalyptic hedonism.
+You Said Strange Emerging out of Giverny, Normandy, You Said Strange became a mainstay of the European underground long before they headed over to Portland to record their highly-anticipated debut album with Peter Holmstrom of The Dandy Warhols.
Dining on an influence of The Velvet Underground, The Brian Jonestown Massacre and Ride – though delivered with their own insatiable, forward-looking French charm – You Said Strange carve out an intoxicating, heady sound of shimmering guitars and reverb cloaked vocals that's just as potent when drifting into full-blown fuzz-overloads as it is when dealing in jubilant, earworm melodies that'll get stuck in your head for hours.
+Trip Westerns
Trip Westerns are a rock n roll five piece formed and based in Brighton. Taking influence from roots rock, blues and the electrifying psych bands of past and present.
Book Tickets
Opening Times
Acid Box Presents: Night Beats + Special Guests

(21 Sept 2022)

Day
Times
Wednesday

19:30
What's Nearby
Based in the heart of the North Laine, the Komedia has an exciting all-year programme of…

0.01 miles away

Simply Urban is a top beauty salon delivering high quality nail and beauty treatments…

0.02 miles away
Since the very beginning Hidden has distinguished itself by the art we offer. In addition…

0.08 miles away

Planning on visiting the amazing Brighton Dome?...If so, click here to get the latest…

0.09 miles away

Little Jasmine Therapies and SPA treat both women, men and couples in our 6 luxurious…

0.1 miles away

Sightseeing Coach Tours

Discovery Tours specialise in sightseeing coach tours departing…

0.1 miles away

Enter Gallery offers a two hour guided Brighton street art tour with graffiti expert, REQ…

0.11 miles away

Planning on visiting the amazing Theatre Royal in Brighton?...If so, click here to get…

0.11 miles away

Brighton Museum is a state-of-the-art visitor attraction with dynamic and innovative…

0.14 miles away

Whether you are a beginner starting out in this fascinating craft or a more experienced…

0.14 miles away

Meet the makers of small-batch, premium Brighton Gin with a behind-the-scenes tour of our…

0.14 miles away
Previous
Next