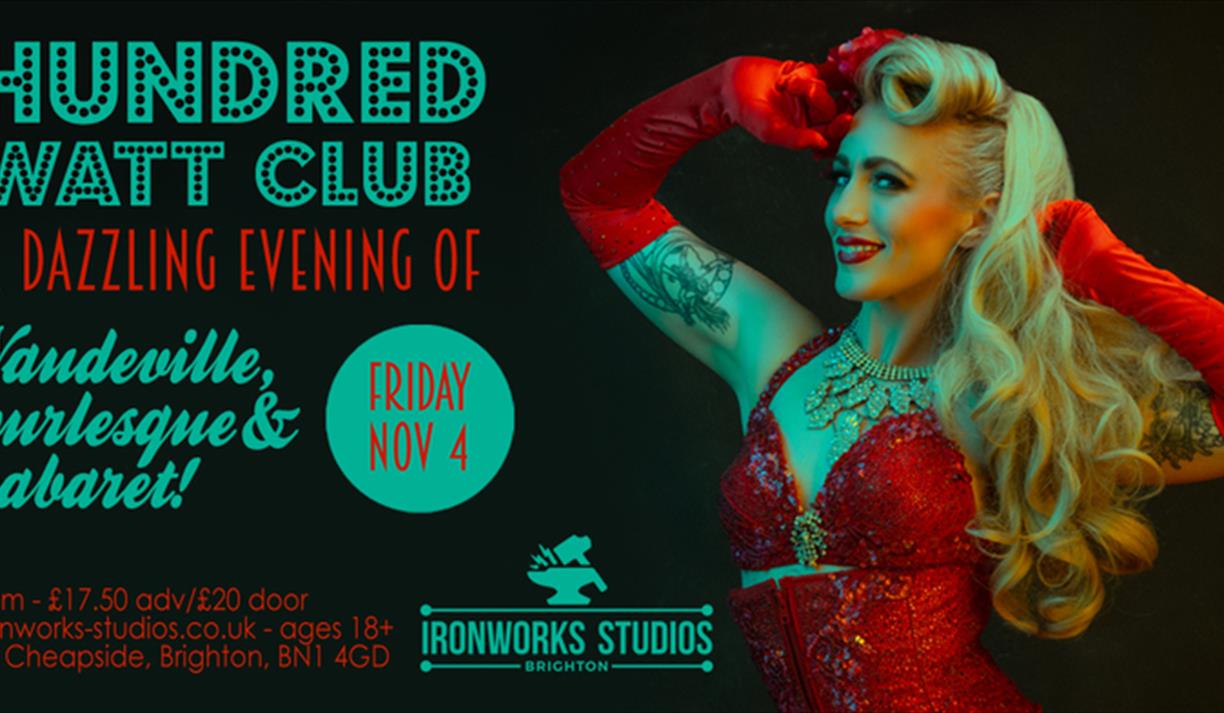 About
Sound the klaxon! Dig out your top hats! Pull up those stockings! Hundred Watt Club are over the moon to be returning to Brighton after FAR too long a wait!!
Join the travelling, erotic, hypnotic, chaotic vaudeville show at Ironworks Studios for a glittering, risqué & ridiculous evening of burlesque, cabaret, comedy & sideshow acts all wrapped up in a feisty, tongue in cheek ribbon!
The Lowdown: Not for the fainthearted, this show employs and embraces adult themes, strong language and partial nudity with gusto. No refunds if it's simply 'not to your taste' Over 18s Only. Includes an interval. Glamorous, vintage attire is encouraged (we love it when you dress up!) but not enforced; wear what you're comfy in. Unreserved seating.
Book Tickets
Opening Times
Hundred Watt Club - Burlesque & Vaudeville

(4 Nov 2022)

Day
Times
Friday

19:00
What's Nearby
Ironworks Studios is a unique multi-purpose studio and event space in the middle of…

0.01 miles away
Church open *10.00am-1.00pm Mondays to Fridays, 10-4pm Saturdays.

Services* : Monday:…

0.12 miles away

Great as a first escape room but also a great time for any seasoned escape room veterans.…

0.12 miles away

Have fun discovering Brighton with two self-guided, heritage walks with an optional…

0.13 miles away

Join your friendly local guide for tours of this unique part of England when we explore…

0.15 miles away

KerrieBerrie Beads & Jewellery is a jewellery designers heaven. It is jammed full of…

0.16 miles away

Brighton's family-friendly event space. Upstairs, beautiful meeting, conference, and…

0.16 miles away

St Peter's is an Anglican church planted from Holy Trinity Brompton, London, in 2009.…

0.17 miles away

Great British Wine Tours will transport you out of the city and into the beautiful Sussex…

0.16 miles away

Whether you are a beginner starting out in this fascinating craft or a more experienced…

0.18 miles away
Previous
Next