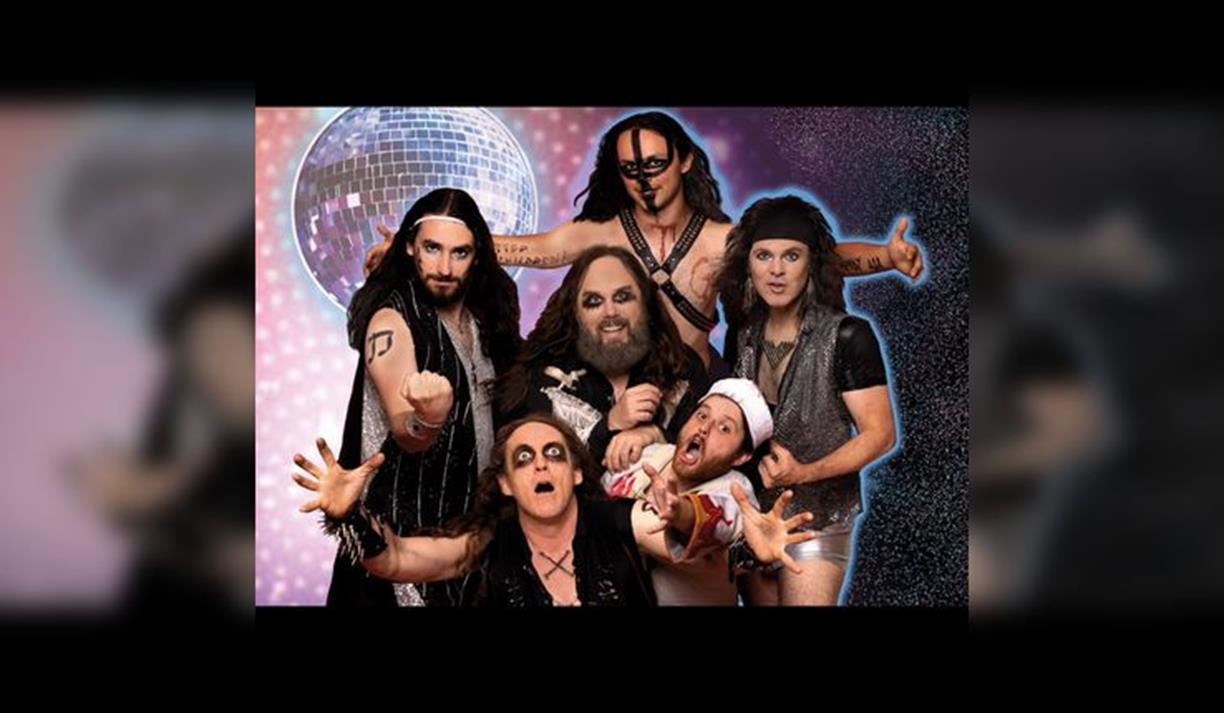 About
Tragedy is an over-the-top bombast of disco, metal, glitter and magic -- the number one party band. Born out of the impenetrable divide of disco and metal, the six fearsome brothers fearlessly obliterated the truce line that had been set in the great disco/metal peace accord of 1977 when they seamlessly blended the two genres with the debut album *We Rock Sweet Balls And Can Do No Wrong*, which was a collection of Bee Gees songs redone in the heavy metal treatment reminiscent of Iron Maiden, Guns N' Roses and Aerosmith.
Since then they have criss-crossed the globe with their spectacular live shows. Subsequent full length albums such named *Humbled By Our Greatness* and *Death To False Disco Metal* have seen them spread their glittered wings to take on non Bee Gees classics from the disco era.
Book Tickets
Guide Prices
| Ticket Type | Ticket Tariff |
| --- | --- |
| Standard | £22.00 |
Note: Prices are a guide only and may change on a daily basis.
Opening Times
Tragedy

(30 Apr 2023)

Day
Times
Sunday

19:00
What's Nearby
The Tunnel has been re-decorated to include a wonderful array of portraits of some of the…

0.04 miles away

While there are plenty of reasons to see Brighton, most don't realise one big benefit is…

0.07 miles away
Planning on visiting the amazing Brighton Pier?...If so, click here to get the latest…

0.09 miles away

The Brighton Zip is the longest zip line on the south coast and an amazing experience for…

0.09 miles away

Alcotraz is an immersive theatrical cocktail experience of the highest kind. From your…

0.12 miles away

Bustling Brighton & Hove promenade is perfect for a leisurely stroll where you will could…

0.12 miles away

Come along and follow in the footsteps of the Victorians in a stroll along the pier, a…

0.13 miles away

Brighton City Sightseeing Tour takes you to visit one of the south-coast's most vibrant…

0.13 miles away

A beautifully restored routemaster will take you on a tour of Brighton & Hove whilst…

0.15 miles away

Travel around Brighton & Hove healthily, sustainably and cheaply using the city's smart…

0.18 miles away

MyCharleston runs fun & friendly adult dance classes in-studio, live and online. We…

0.18 miles away

Unique walking tours of Brighton by a professionally-qualified Blue Badge tourist guide.…

0.18 miles away

TRULY UNIQUE, inspired activities for hen parties and groups. Hilarious and dynamic…

0.18 miles away
Previous
Next