Discover Family Fun at Elderflower Fields Festival this May.
Last year my family and I got to experience the beauty of Elderflower Festival for the very first time. Now, working for VisitBrighton for many years has given me a good grasp of the best events in Sussex, but hearing colleagues rave each year about this special May family festival they went to, always piqued my interest. Sadly, not being able to drive and not owning a tent were (in my mind) barriers to me booking, and dear reader, I now sadly regret not trying to overcome this sooner. Finally last May I took the plunge and my husband and then 6-year-old headed off to Pippingford Park, near Ashdown Forest to finally find out what all the buzz was about.
Some things you need to know before you book your tickets, there is a programme absolutely heaving with free family friendly events, if you wished to, you could be at an activity or event from dusk until dawn (And later if you have the stamina). Many activities are included in your original ticket price, if you wish to add some extras like a spa treatment or the kids fancy turning their hand to canopy climbing or kayaking you can book these in advance. As we were dipping our toes, we didn't pre-book and just wanted to explore what was already there, with many of our daughter's favourite acts on the programme (I'm looking at you Mr Pineapple Head,) we knew we could approach the weekend at a leisurely pace and still not have a bored child on our hands.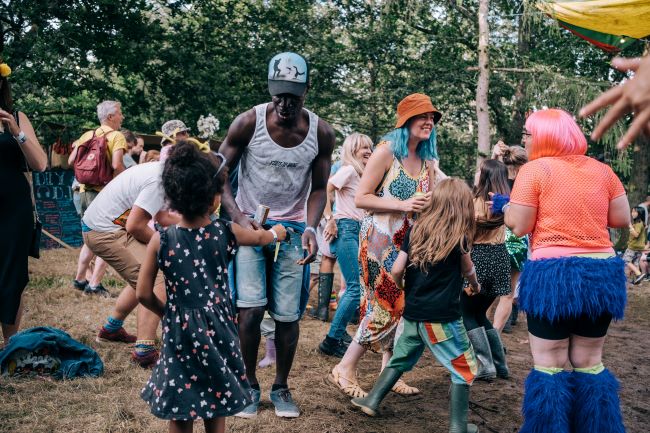 Heading into the heart of the Sussex countryside for a weekend of adventure and fun as a family when you know there is a wide variety of activities and other children for yours to play with really takes the worry out of holiday booking. Knowing that the site also has all you could possibly need in practical terms, is reassuring and we felt relaxed as we headed off with only clothes and some light snacks for the journey. OK so I do need to confess something here, I am not a great camper, I like my home comforts, I love the outdoors but generally as a day visitor only. If you are like me, this is where the bell tent comes into play. We booked a gorgeous tent that had all the luxuries of home including a phone charger and beds meaning we could enjoy all the shows and fun of the festival without lugging around a tent and sleeping bags. If you have transport however, I would be tempted to camp, a tent space is included in your ticket price making the weekend more affordable, plus you would have more money to spend at the waffle stand.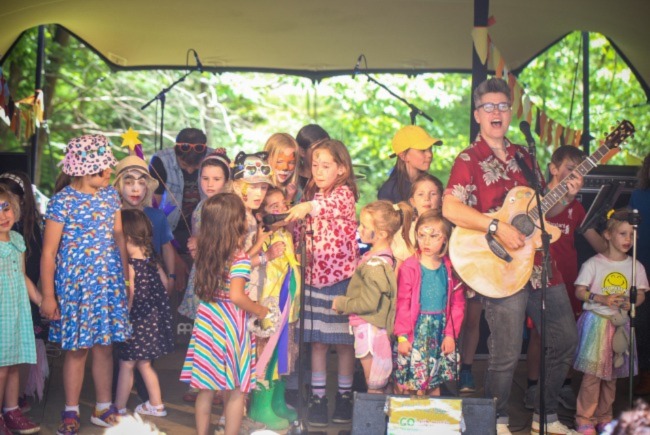 Food at Elderflower is plentiful and varied enough to keep everyone full and content, I have never been to a festival where there is so much variety across the site, queues were minimal and because there was so much choice all the kids in our group were happy with the options (When does that ever usually happen!?) We started our first night with a pizza which was up there with the best I've ever had, my daughter loved it and considering she would dine on margherita pizza alone for every meal if given the opportunity, she was also singing its praises after the first bite. Considering how many families attend Elderflower, it never felt overly busy or too crammed, the beauty of being by the woods means you can easily change the pace of your day. After a few high energy morning shows we easily spent 2 hours with the kids just playing in the beautiful woods and making mud monsters while we relaxed in the sunshine.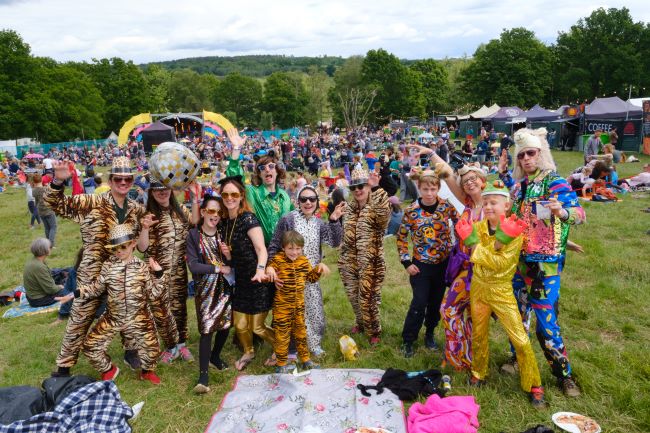 At the heart of Elderflower is a good music line up, which everyone can enjoy. Walking around you stumble across different acts on the numerous stages, the perfect musical version of pick and mix and ideal for those audiences with a short attention span. Seeing kids being introduced to gigs in a fun and welcoming way was such a lovely sight, and there was a true feeling of community and safety to these shows. One of the highlights of the Elderflower calendar is the picnic on the Sunday. This is one not to miss, everyone comes together and shares the beautiful local produce in the hamper you are given, there is live music, wacky costumes and just an overall feeling of relaxed, silly, fun. As you need a group of 8 people to get the hamper it is also a great way of meeting others if you are an Elderflower newbie.
After three days of absolute bliss, with aching legs and a list of what we need to do next year growing ever longer, we sadly headed home from our weekend retreat. I get now why Elderflower is considered so highly, it is a rare, magical place where kids can be kids and their adults can relax, content knowing they are getting fresh air and exercise. We cannot wait to go again this year and I know this will just be part of our calendar forevermore. Tickets for this year are running low so if you want to go, book now to save missing out. Elderflower is the Goldilocks and the three bears of festivals, not too big, not too small, in fact it is just right.
Top Tips for a fun festival
💃 If you don't drive, it's easy to get to the festival from Uckfield Train Station, taxis from there don't take long and were a reasonable cost although I would strongly recommend booking your taxi transport in advance.
💃 When you get to the site you are given wrist bands for your kids for you to write your phone number on, this is an excellent way of making sure everyone is kept safe.
💃 If you are not a natural camper then there are tents facilities you book in advance, with different options you can either embrace the full glamping experience or book a tent where you still supply items such as duvets.
💃 There is an amazing tractor service which transports your luggage across the site, for a minimal fee, this was a life saver and worth every penny.
💃 Try not to overpack, the site is well stocked for nearly all eventualities.
💃 Festival attire is fun and relaxed, expect to see a lot of beautifully painted faces, I would also recommend good shoes, this is a festival after all and mud is compulsory, flip flops just won't cut it.
Caroline
Related
0 Comments