This has been a year like no other and we are all in need of some festive cheer; so we are delighted that the Artists Open Houses (AOH) Festival will soon be here offering an array of inspirational art as well as unique, handmade Christmas gifts!
The AOH festival will be a little different this year. Due to the national lockdown, the Festival will run online 21st November - 31st December, where Open House artists will offer behind-the-scenes virtual tours and galleries of their work. By browsing the artists' listings, you can hear about the work, the processes of making and the ideas behind it, and you can buy the work directly from them.
From 5th-13th December* we hope to return to normality, when you will be able to visit Open Houses to view the work and meet the artists in their homes.
Judy Stevens, AOH Festival Director says, "We are delighted to be launching our four-week Winter Festival after the necessity of postponing the May Festival this year. Despite the difficulties of the last few months, many AOH artists have actually found the lockdown period to be a fruitful time, allowing space to explore new ideas and ways of working. This festival will be a great opportunity to discover really exciting and inspiring new work. We are hugely grateful to David Shrigley for his support for our young artists."
---
Here are a few festival highlights:
Sophie Wake, AOH Winter 2020 Brochure Cover Artist, is a contemporary British artist known for her human and animal paintings. Winner of the 2019 Best Open House Award and Best Newcomer in 2018, Sophie was selected by Grayson Perry to show in his Yellow Room at the 250th Anniversary of the Royal Academy's Summer Exhibition 2019. Immerse and delight your sensorium at Sophie Wake's multi award winning solo show. Original paintings, prints, cards and gifts. 10 Walpole Road, Brighton, BN2 0EA
We, You, Me, the Artists Open Houses student bursary exhibition, offered by the new Hanningtons Lane Development, features the work of four third year students studying Fine Art and Sculpture at the University of Brighton. This festival exhibition is an opportunity to see the development of these young artists' work following their conversations with internationally respected artist and AOH Ambassador David Shrigley. Brighton Place, Brighton.
For the third year running, the Artists Open Houses festival will be showcasing the work of emerging artists through a specially curated strand called New Grounds. Filmmaker, artist and curator Idil Bozkurt, and curator and gallerist Beth Troakes, will be curating an evolving exhibition around the theme of Body/Nobody, tracing a dialogue between physical and digital realities, as well as a programme of performances and events at Gallery Lock In, Hove. This is an opportunity to see the development of these artists' work following workshops with internationally renowned, artist and AOH Ambassador David Shrigley. Little Western St, Hove, Brighton BN1 2PU
This year we've all spent more time than ever at home, and remotely accessing the homes of others. Figment Arts Studio artists have chosen to explore HOME as the theme of this exhibition. Work shown includes poetry, design, illustration, performance art, animation and projections. The five artists invite you into their HOME to experience the new work created for this exhibition. SOLD is Shoreham Opportunities for learning disabilities. A one of a kind independent Charity Shop in the heart of Shoreham by Sea town in West Sussex, offering training to adults with learning disabilities and/or autism with work experience in the shop. 62 High St, Shoreham-by-Sea, BN435DB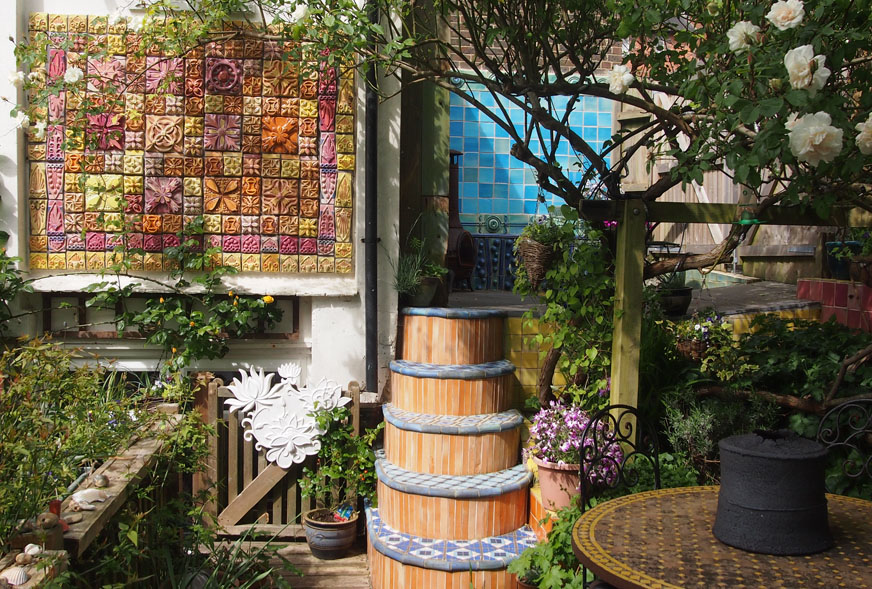 Kay Aplin opens award winning The Ceramic House with an exhibition called JOY featuring international ceramists exploring spontaneity, improvisation and intuitive making techniques displayed in the extraordinary setting of Kay's architectural ceramic installations. There will be a special listening event, The Joy of Isolation, 21st November 6-9pm, created in partnership with Aural Detritus. Bring smartphone/headphones. The Ceramic House, 75 Stanmer Villas, Brighton, BN1 7HN
Showcasing work from the Deep Time Project, a creative partnership with the South Downs National Park that explores the culture, history and ecology of Seaford Head using photography, digital art and creative writing. Brighton Health and Wellbeing Centre is a forward-thinking GP Practice on Western Road, offering patients an arts programme alongside traditional medical care. 18-19 Western Road, Hove, BN3 1AE
The Rugby Road winter wonderland returns! One of the highlights of the Artists Open Houses Christmas Festival- this house is a cornucopia of Christmas delights! New for 2020, visit the re-landscaped sculpture garden, all lit up with twinkling lights– with a one-way walking system to help peruse the Open House safely. 11 Rugby Road, Brighton, BN1 6EB
A real AOH festival highlight, Montpelier Road has a diverse and exciting mix of work by ten artists and makers including painting from Tiffany Lynch and Holly Loader, interactive workshops from Be Chocolat with Michel Clement and jewellery from Risza Lopes da Cruz. All set in a beautiful Montpelier villa. 92 Montpelier Road, Brighton, BN1 3BE
Celebrating his 20th consecutive year of Artists Open Houses, Brighton born artist Dion Salvador Lloyd will be showing new contemporary abstract landscape and seascape oil paintings, alongside a collection of botanical works and limited edition signed prints. 18 Goldstone Villas, Hove, BN3 3RQ
This diverse and exciting show explores feelings, perceptions, fears and hopes of Encounters' artists as words like Pandemic, Lockdown and Quarantine were repeated incessantly, becoming the Zeitgeist of our times. The show features Richard Bagguley's Tiempo de la Pesté, Marion Brandis' Time of Corona, Linda Leiberman's Covid Moment, Carlos Sanchez and Mariana Teixeira's Lockdown jewellery, Romany Bruce's Nature of Being, Rafael Reveron's Exploratory online dialogues, Yole Quintero's Digital/analogue expression and Andreina Mujica's La mesa se viste de cine. 12 Langdale Road, Hove, BN3 4HN
Milton House is always voted onto Best Open House List. Full of variety and colour there is a great mix of 14 artists and makers on show, including prints and cards from artist Sarah Jones…Plus a chance to meet Percy and Murphy the Open House cats. 72 Clyde Road, Brighton, BN1 4NP
The Photographer's Greenhouse and garden hosts an array of sustainable art and green gifts. See paintings, ceramics, plants, wreaths, florals, foraged food, woodwork, textiles, jewellery. Book a family portrait or just pop in to the photobooth.
Founder of the ever-growing Facebook group, Brighton Skies, Faye spends her days looking up at the sky and out to sea. Her paintings capture fleeting moments of light, playful movement and her emotional response to the landscape. The Sussex coastline and rolling South Downs are a constant influence. This year Faye was awarded two prestigious art prizes - the John Purcell Paper Prize for the Royal Institute of Painters in Water Colours and the Derwent Art Prize (People's Choice). She also had work selected for The Society of Women Artists annual exhibition. 10 Dawson Terrace, Brighton, BN2 0EL
The Montefiore Artists will once again be showcasing their vibrant and diverse range of work in the mediums of painting, printing, drawing, textiles, sculpture, photography and mosaics. Artists Open Houses gives our artists with learning disabilities a real focus to show their work to a wider audience and it's a great way to connect with the local community. Grace Eyre, 36 Montefiore Road, Hove, BN3 6EP
Abigail's abstract oil paintings are inspired by 'the edge of the rainbow', the blurred place where reality and our emotions and imagination mingle. It's the place that transcends what we see and creates those moments that capture the heart and touch our soul. Abigail was born in Brighton and graduated in Fine Art, Painting from Chelsea College of Art. 22 Clifton Street, Brighton, BN1 3PH
Related
0 Comments