Virtually the whole time I've worked here (almost 14 years!) we have discussed the possibility of VisitBrighton taking part in the Pride Parade but for various reasons it just never happened. Until this year!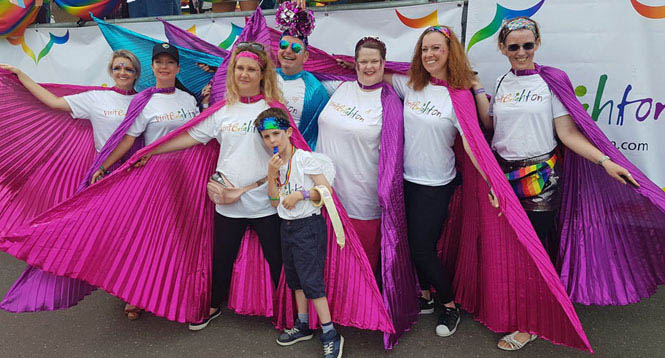 Our colleagues in the Royal Pavilion & Museums team have had a float in the Parade since 2017 and while I'm not sure exactly how the idea came about at some point it was suggested that this year we could join forces and we very quickly decided that this was a brilliant plan.
Now that VisitBrighton was going to be in the parade we had to decide which members of staff were going to take part. While I thought the idea of the team being a part of the parade was a no-brainer, whether I personally was going to be there took a bit more thought. I don't actually live in Brighton any more so I was worried about getting here in time and also I'm not overly keen on huge crowds. However I gave myself a bit of a talking too – plenty of people would be desperate to take part and here I was pondering about it, this is just something you don't say no to. Plus the enthusiasm in the office was infectious!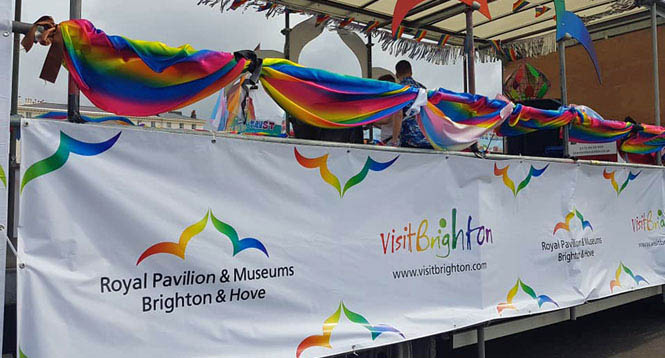 Now we were signed up it was time to discuss costumes and so began several months of shopping for as much glitter as possible! We fairly quickly hit upon the idea of wearing disco wings especially once we found them in our main brand colours of cyan, magenta and purple. I have to confess after that there were a few Friday afternoons when we would treat ourselves to a wing session, as to paraphrase Winnie-the-Pooh: Nobody can be uncheered whilst wearing wings 😊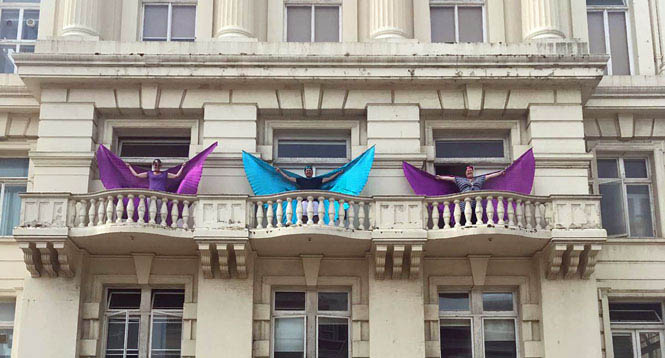 It was finally time for the big day itself, Caroline had very kindly offered to host us all as she lives closest to Hove Lawns and so we all took over her flat as we covered ourselves in glitter and winged-up. Off we skipped to meet the others at our float and while we were waiting to set off we had time to watch the other participants and spectators gathering. At this point I was already thrilled to be there and so glad that I overcame any reservations about taking part. We had been warned that we would be waiting a while at the lawns before the parade would start moving but it was a good opportunity to take some photos, see all the wonderful outfits & costumes other participants and spectators were wearing as well as chatting to friends & family who had come down to wave us off.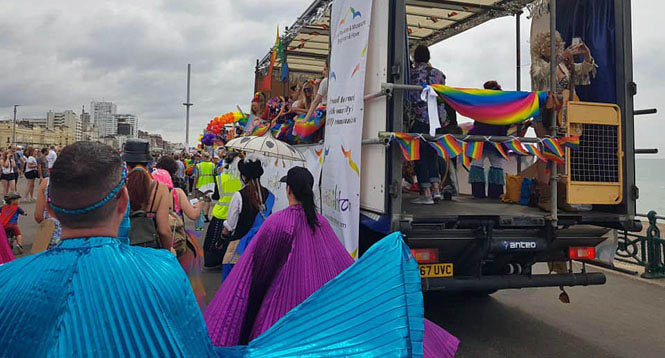 All at once it was time to go, after all the build-up it was finally happening! Walking along by Hove Lawns was fun but the moment the scale of the event really hit me was when we reached the Peace Statue and turned right to start walking on the main road. Whichever way I looked there was a sea of smiling, happy faces plus a lot of glitter and rainbows. The sheer size of the crowd was unbelievable and we were right in the middle of it all! Turning the corner we had more room to literally spread our wings and there was enough of a breeze to create a perfect billowing effect, as I caught my workmates eye we couldn't help but grin. I think it was at this point Katy Perry came on and I thought: "yes Katy you're right, I am indeed a firework!"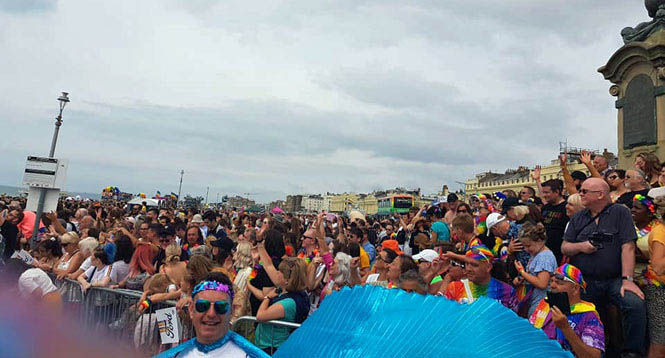 Naturally the parade does have to stop and start a lot and when we paused shortly after this (near The Grand) I calmed down a bit and we just started dancing, spinning and giggly while we waited to set off again. At this point a lady in the crowd came over and asked for a photo, I assumed she meant she would like me to take a photo of her with her friends but no, she wanted a picture of me & my glorious wings. Of course I obliged and instantly felt like a celebrity again, so this time as we turned the corner into West Street I triumphantly spread my wings and was not at all surprised when the crowd cheered me on.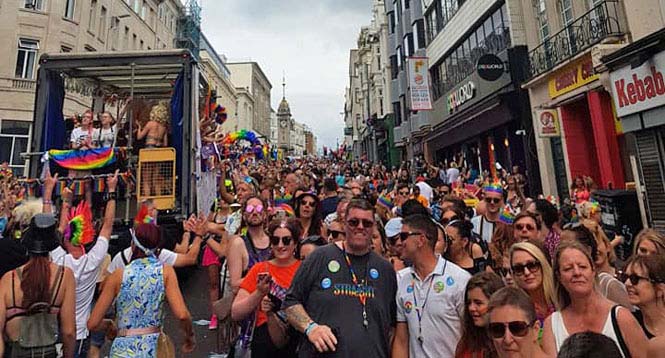 It was a truly awesome day – I know that word is overused nowadays but it actually was awe-inspiring. Without wishing to sound too gushing it was wonderfully uplifting to see so many people in our little city to celebrate and support our LGBTQ+ community – whether as part of the community themselves or as allies. I was proud to play a small part both as myself and as a representative of VisitBrighton.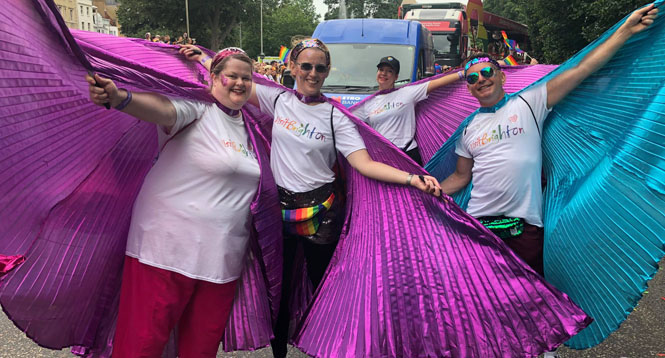 Perhaps I am still on a high and feeling like a celebrity but I would like to end this post with a few thank yous (oo get her!). First of all while he wasn't able to join us on the day, big thank you to Darren in our team for being the catalyst and getting us linked up with the Museums team in the first place. Thank you to Rob, Kelly, Helen and everyone else from Brighton Museums who did all the hard work of organising the float while we were buying glitter and having wing workshops. On that note I would also like to thank Miss Rose Demure who is a professional burlesque dancer and very sweetly gave up her time to teach us a routine and whilst we didn't manage to actually stick to it (sorry!) we did remember some of the moves and she gave us the confidence to really work our wings to their full effect. Thanks to my fabulous team mates for sharing the fun and thanks also to Super Sid for being our sticker angel and high-fiver extraordinaire. And of course thank you and huge congratulations to everyone involved with Brighton Pride for putting on another spectacular event.
Finally thank you to everyone who came down to watch the parade, there were times along the route when we started to flag but seeing your smiles and hearing your cheers really spurred us on.
Thanks everyone and here's to Pride 2020!
Charlotte
Related
0 Comments