We've decided to get to know some of our local business partners a bit better - and today we speak to Tim Carter from Black Cat Treasure Hunts...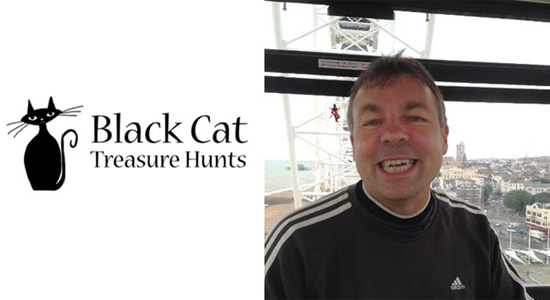 Tell us about yourself and why you started Black Cat Treasure Hunts
I graduated from Chichester University (not known as that back in 1985!) with a degree in Sports Studies. We were the first year to take that course there and one of the first across the country.

I stayed in sport and leisure for just over 25 years with jobs across leisure facilities in the Lewes district. Highlights included working at the opening days of both the Downs Leisure Centre (Seaford) when Geoff Capes (Strong man/GB shot putter) was special guest and at Lewes Leisure Centre when Sharron Davies (Olympic silver medallist at swimming) performed the opening ceremony.

I covered all sorts of roles from sealing sports hall floors to corporate marketing and up to management level. I was at my happiest when I was involved in running or being involved in sports tournaments or special events. Once again, these were nothing if not varied and included a 24 hour sportathon against the fire brigade, an inter- organisation 'It`s a Knockout' and a notorious day when kids could bring in their pets to the leisure centre…including a pygmy goat and a snake. We had to keep that quiet from health and safety!

After a short and unhappy spell as an Operations Manager at a private school and a period of unemployment, I decided I wanted to do something fun that would satisfy my creative side. After seeing there was no Sussex based franchise for treasure hunts (which had caught my eye), I took the brave or foolhardy decision to set up on my own…Black Cat Treasure Hunts was born.
---
Tell us more about the business too!
I started the business in 2012. Fearing that I would clash with the Olympics(!) I kept it quite low key initially and concentrated on the on-line side of things by developing treasure hunt routes across the county which people can download to do from my website. I still occasionally add new routes in different places. Fun fact: I got the name for the company when a black cat followed me around Alfriston when I was trying to devise a route and questions!

Over the years I have specialised more in writing personalised and bespoke treasure hunts for groups such as hen parties, corporate teambuilding or special events. Next year I want to launch an open team event in Brighton.
---
What do you love most about what you do?
I love being able to be creative in terms of writing fun clues and accessing the best parts of the place I am setting up a route in. I like researching things so that I can provide original mini-challenges for teams to do. The personalised hunt bookings send me photos and varied info about the participants which can be hilarious and gives me plenty to work with.
---
What's your average day like, or is it ever average??
Not really an average day, but it depends what stage of the hunt creation process I am on and also the time of year can affect what I am doing. One day I can be `on the road` devising routes and either checking or making up new clues, whilst the next will be a solid day on the laptop putting everything together into a presentable format.

Corporate groups like me to be present to organise their event and do the all- important (independent!) marking/judging at the end. It's great to meet the people who have booked my services as generally I don't get that chance.
---
Most memorable treasure hunt?
I managed to persuade 16 Russians/Kazakhstanis (mainly lawyers) from their offices in London and Moscow to visit Brighton instead of Cambridge for a day out. The treasure hunt involved the women dressing in long flowing dresses and the men in outfits resembling those to be seen on The Game of Thrones. As two teams they not only explored the area around the 7 Sisters cliffs, but also around all the attractions and streets in Brighton. I had to dress up as "The Grand Overlord of Brighton" (yes..really!) to give them their instructions! It raised quite a stir to onlookers… Basically, I am saying I am prepared to consider any treasure hunt proposal!
---
What is the biggest challenge or opportunity currently for you at the moment
Covid-19 is of course the biggest challenge at the moment. In terms of opportunities I created an indoor treasure hunt challenge for families during the first lockdown and more recently I have been developing a competitive treasure hunt across Brighton for teams of 6, to launch in 2021 from May to August inclusive.
---
What do you love most about Brighton?
I love the variety of the city in terms of its history, its buildings…definitely its quirkiness (great for treasure hunt clues) and the people are very open to getting involved in the fun challenges my teams of treasure hunters get them involved in.
---
If anything at all, what would you like to be doing as an alternative career?
Sports journalism! When I left school I enjoyed sports and writing, but never put the two together beyond a few match reports for friends. Sports journalism as a Uni course wasn't 'a thing' back then as it is now.
---
Apart from Brighton of course, where else would you most like to live and why?
I stayed with a family in Penang (Malaysia) for 3 weeks once and that was great. Friendly people, great scenery/ sandy beaches and lovely food.
---
Thank you!
Related
1 Comments