We've decided to get to know some of our local business partners a bit better - and today we speak to Tope Osho from Pixel Gallery...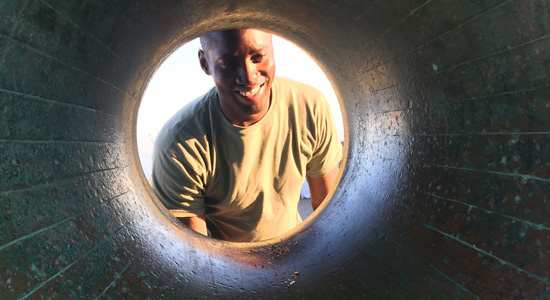 Please tell us about yourself and your involvement in Pixel Gallery
Hi, my name's Tope, and always felt fortunate grow up in the Brighton. The city has always had a vibrant creative energy and some of it must have rubbed off on me over the years even if I wasn't always aware of its influence.
After finishing college at Cardinal Newman school in Hove, I went on to study Law in London and then lived in various places around the world before returning to Brighton.
I set up Pixel Gallery during the first Covid lockdown in 2020. Like many people the enforced 'timeout' gave me the opportunity to really think about what was important to me and the breathing space to try that 'Someday idea'!
Pixel Gallery was that idea. I had always wanted to help build a community of artists where those who created the artwork benefitted fairly from it and where everyone who bought the artists' work received the very best in terms of quality and service.
Today Pixel Gallery works with artists from across the globe including Ukraine, Nigerian, Sweden and of course Brighton.
---
What makes Pixel Gallery different? And why did you choose the name?
Pixel Gallery is sustainable online art platform. We work with artists from across the globe including a number of very talented local artists to exhibit and sell their artwork in various forms including original artwork, limited edition prints on sustainable materials and digitally.
Sustainability is at the core of everything we do, from the materials we use to create limited edition fine art prints to for example Capiz shells (renewable and ethically sourced shells of the Windowpane Oyster) which is used by one of our artists to create beautiful moving centre pieces.
The idea behind Pixel Gallery is that every decision we make matters, and it doesn't matter what's happened before, every decision we make now can lead to a more sustainable and equitable world, not just in art we chose to bring into our spaces, but in every aspect of our lives towards building a more sustainable and equitable future.
The 'Pixel' represents this. We interact more and more with screens today, from the texts on our smartphones in our hands to the news programmes we watch on our TVs and tablets.
The images you see on these devices are made up of millions of individual pixels which together form the image to you see, like the millions of little choices you make over the days, months and years that form a life.
The Pixel also represents the power of technology, which we use not only to ensure the gallery is as sustainable as possible but also to bring the joy of art to people wherever they are.
---
What do you love most about what you do?
Can I pick two please? I love discovering talented new artists, bringing their artwork to a brand-new audience and seeing the same excitement I felt when I first saw the artwork. And secondly, every time I speak with a client who's had a new piece delivered and they love it, because I know it's going to be a source of joy for them for many years to come.
---
What's your average day like, or is it ever average?
Every day is different and that's the best thing about my role. Today for example I spoke with new digital artist we're looking to bring onboard currently based in Southeast Asia, I've had meetings with clients about commissioned work and providing art for a commercial space. I'm also overseeing the rebuild of our new website and will probably spend the rest of the day writing a new blog post about a little figurine from a Parisian 1906 version of 'Snooper's Paradise that led to Cubism and Art Deco building. It's all fun though and the end result always makes it worth it.
---
What do you love most about Brighton?
I discovered trail running just before the pandemic in 2020 and have grown to love the South Downs national park. I have always enjoyed hiking but running along the downs, I have been able to discover so many beautiful new places in and around Brighton and grown to realise we're even more lucky than I already thought.
---
Thank you!
Related
1 Comments