In a compact city such as Brighton walking is often the quickest way to get from A to B, however if you are just walking in Brighton as a means of transport then you're missing out! I love walking and Brighton is a great place for walkers as we really are spoiled for choice when it comes to walking routes.
So if you are looking to swap screens for scenes then let me tell you about a few of my favourite walks in and around Brighton…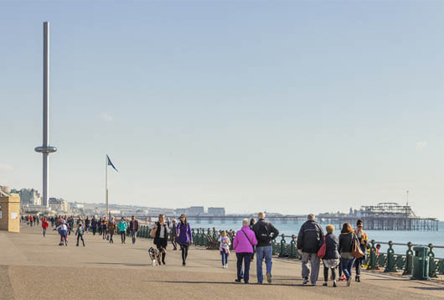 "Oh! I do like to be beside the seaside!
I do like to be beside the sea!
I do like to stroll along the Prom, Prom, Prom!"
Forgive the brief musical interlude but while that is an old song, a stroll along the prom is still one of the best ways to soak up the Brighton atmosphere. Aside from the physical benefits I love a seafront stroll as it is a chance to clear my head and a reminder of how wonderful our city is. If you're not limited for time then the seafront promenade actually stretches for 8 miles so depending on how energetic you are feeling you can do as much or as little as you fancy. The full distance runs from Hove Lagoon to Saltdean and can easily be broken down into smaller sections with plenty of places to stop for food along the way!
Undercliff Walk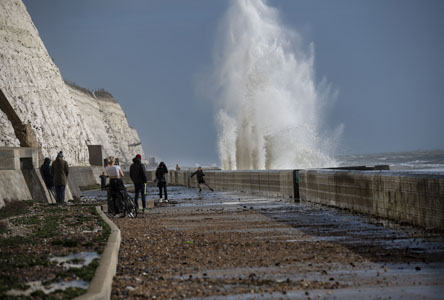 I'm sure most of our visitors will already be familiar with the Brighton Palace Pier to Hove Lawns section of the promenade and all the various attractions along the way so for something a bit different I would suggest heading to Brighton Marina to try the Undercliff Walk.
This section of the walk is on the sea wall under the cliffs (hence the name!) and the dramatic coastline is a great backdrop for a leisurely stroll. This route is popular with both pedestrians and cyclists but the walkway is wide so there is plenty of room for everyone, you're also bound to see plenty of dogs too. The walk is approximately 3 miles (5 km) and so can be comfortably completed in about an hour. There are public toilets and cafes along the route or you could detour from the walk and visit the picturesque village of Rottingdean. From Saltdean if you don't fancy walking back there is a coastal bus service which will take you back into the city centre.
Healthwalks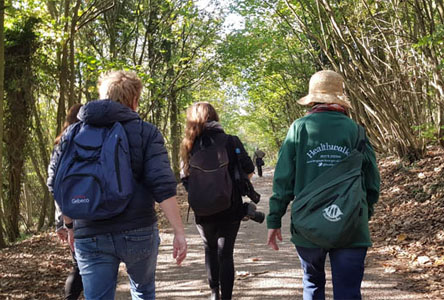 Whether you're a resident or a visitor if you fancy doing more walking in Brighton but aren't sure where to start then the council's free Healthwalks programme is ideal. Led by volunteers the award-winning scheme offers 18 regular walks ranging from 1 to 3 miles. All the walks are accessible by public transport and are a great way to see more of the city whilst getting some exercise. The Healthwalks also provide an opportunity to see more of our lovely parks such as Preston, Hove & Stanmer.
As the healthwalks are run by volunteers they may not be available all the time so as an alternative why not try a self-guided walk? There are a range of themed walks & trails which you can follow on your smartphone with Google Maps.
Country walks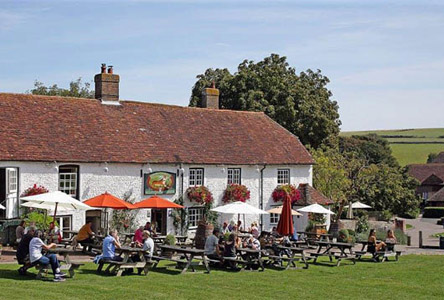 In addition to the seafront and the city Brighton is a gateway to the South Downs National Park so why not hop on a bus and enjoy a day out in the country? Devil's Dyke, Ditchling Beacon and Stanmer Park are all accessible by bus – including open-top buses over the summer. Alternatively if you want to explore a little further out then you can catch a 12 Coaster bus from the seafront which goes along the coast to Eastbourne including stops at the Seven Sisters and Beachy Head. However my advice would be to get off at East Dean as from this village there is a lovely circular route to Birling Gap and then when you return to the village you might be able to pop in to The Tiger Inn for some food and a well-earned pint – I recommend the Long Man Best Bitter.
→ For more walking route suggestions visit our Walking & Hiking Routes in Brighton page feturing trails from the Sussex Walks App.
Charlotte
Related
0 Comments