Here we know Lovely Lu as a reviewer extraordinaire however her day job is as a Conference Sales Officer so today she gives us an insight into how big conferences can make a big impact...
Way back in 2019 in those beautifully care-free, pre-Covid days, an Event Manager from PraxisAuril wandered (mask & sanitiser-free) through The Meetings Show in its old home of London Olympia. She chatted to me on our stunning (and award winning!) stand about potentially holding their annual conference in Brighton. After a heady mix of Familiarisation Trips, a Pandemic, multiple date changes, various Site Visits, meetings, phone calls, emails and sheer determination – the three-day event was confirmed at the Brighton Centre for June 2022. What a journey!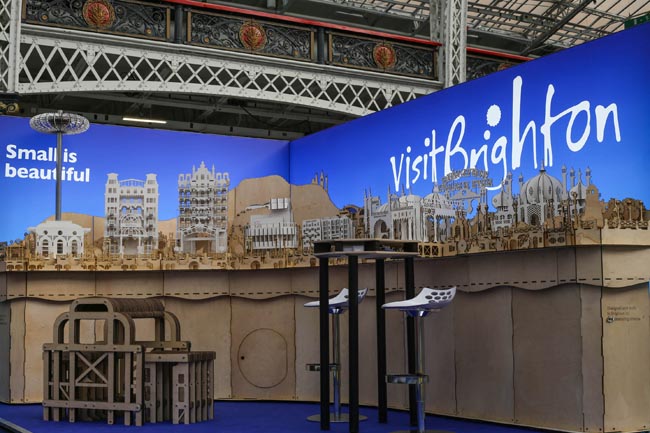 Talking of journeys – Covid meant that their first in-person event for years would be 2022, which also happened to be their 20th anniversary!
Maxine Ficarra, CEO of PraxisAuril says: "We were delighted to finally be bringing our PraxisAuril conference to Brighton. As it turns out, the pent-up demand from our knowledge exchange network (the amazing professionals who help ensure that university research results in benefits for society – think vaccines!) for an in-person event meant that this was our biggest conference ever and we brought over 450 delegates to the city-by-the-sea this year."
That meant BIG celebrations! There was a lot to be happy about. But 'throw away' those visions of balloon-drops, confetti, and party blowers – we're talking thoughtful sustainable celebrations in sustainable style.
So, no single-use plastics and recycled serviettes, right? Not quite – think BIGGER. The Brighton Centre is where the conference took place and was selected for many reasons – its fantastic location bang on the seafront, the benefit of exclusive use of the entire building, and all the sustainable steps they have been taking. Accredited for the Soil Association's 'Food for life served here' bronze award with dedication to constantly improving (they are aiming for Silver this year!) these are a few highlights of their positive actions:
Beef is Banned and 'Meat-free Mondays' introduced.
Water is in cans – not plastic. Delegates are encouraged to bring their own bottles use the water fountains throughout the venue.
Offering Bento Boxes to reduce waste
LED lighting & renewable energy.
Provide clients with a sustainable suppliers list.
Brighton Centre staff organise a Beach clean with the VisitBrighton team twice a year.
Emma Thurlow, Business & Sales Manager, Brighton Centre says: "As a council owned venue, I believe that community and sustainability should be at the heart of everything we do at The Brighton Centre. Having spent seven years with VisitBrighton prior to this role, I am fully aware of the huge multiplier effects that large conferences like PraxisAuril have on our economy and, in turn, community. I am also very conscious that we are not just playing lip service to an idea of sustainability or greenwashing and that it simply becomes part of our business culture."
What wonderful work! It's clear that other venues are looking to the Brighton Centre, as the biggest venue in the South, to set a great example. You might say that others bow down to peer pressure. (Should that be PIER pressure?)
---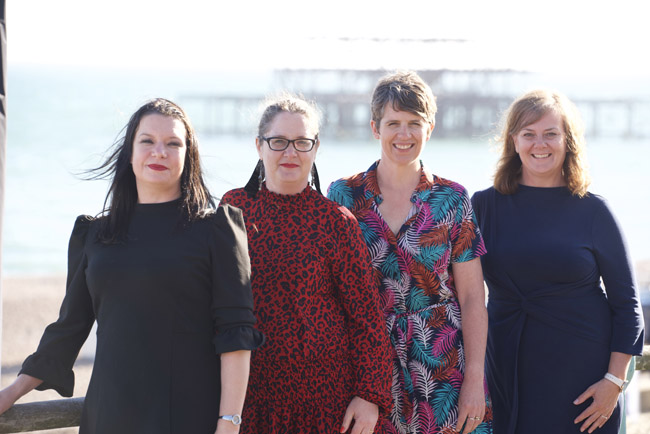 Lucinda Jones, Sales Officer, VisitBrighton
Emma Thurlow, Business & Sales Manager, Brighton Centre
Dr Shona Campbell, Associate Director, Knowledge Exchange University of Brighton; Conference Committee Chair
Maxine Ficarra, CEO of PraxisAuril
Credit: James Ennis Photography
---
In Brighton there are many 'sector strengths' that make the city an even more desirable destination for industries.
Dr Shona Campbell, Associate Director, Knowledge Exchange University of Brighton; Conference Committee Chair explains: "Brighton, an acknowledged hub of the knowledge economy, with its vibrant SME community, was an ideal setting for PraxisAuril to bring together its membership of Knowledge Exchange professionals. I was delighted to chair the conference on behalf of the University of Brighton, and for colleagues to share some of the innovative ways the University shares knowledge with businesses and community groups in our region. The Brighton Centre was perfect for networking, allowing delegates space to reconnect."
PraxisAuril had selected the best destination in the UK, and still committed throughout all the challenges of the past few years, which resulted in the 2020 conference happening in 2022.
Anita Macdonald, Marketing & Communications Manager, PraxisAuril: "#PrAConf22 is our first real live event since 2019 and with this year being our 20th birthday, the pressure was on for this to be a knockout event; Brighton did us proud! With over 450 people in attendance (where over half were first timers to a PraxisAuril Conference), the Brighton Conference Centre and the Grand Hotel were buzzing with excitement and happiness as our delegates connected and reconnected with one another, proving that knowledge exchange truly is a people business. Both venues helped us to ensure we kept food wastage at a minimum (we had no lunch bags leftover on our second day!) and with water filling stations at the Brighton Conference Centre and our compostable badges, #PrAConf22 was one of our most sustainable events ever. "
Anita also guided the rather heart-warming decision to fully commit to what is often referred to as leaving a Legacy, or, to use a slightly more enthusiastic term, - considering their IMPACT. They could have come to the city, enjoyed the conference, drunk a lot of coffee, met some new people and gone back home, but instead they ditched the delegate welcome bags. Ah! Another sustainable choice. Well done. AND donated the money to Brighton & Hove Food Partnership. Oh! That will make a difference now and, in the future, way after the delegates have left Brighton Station.
Brighton and Hove Food Partnership do an abundance of good stuff for the city & beyond including teaching cookery classes for people living with disabilities, low incomes, and other challenges which is funded by people attending paid-for cookery courses in their community kitchen and foraging classes in Stanmer Park. They have created the 'Emergency Food Network' a collaboration of food banks and other useful programmes like 'In the Bag' recipe kits to help to reduce waste and help people who are struggling, they also set up community composting sites across the city and offer guidance on buying locally, zero plastic and a whole host of other incredible things.
Jess Crocker, Senior Manager at Brighton & Hove Food Partnership says: "We suggested using the donation to support for this area of our work: Stanmer Wellbeing Gardens. Brighton & Hove Food Partnership are currently expanding our site to enable more people to benefit from outdoor activities, including cooking workshops over fire and ecotherapy for people with a range of challenging life circumstances. The funding helps towards improvements like higher raised beds or wheelchair matting to improve accessibility for our users."
VisitBrighton was happy to help introduce PraxisAuril to all the partners because making connections is our form of Knowledge Exchange.
Positive things have come from difficult times, and the whole journey began with a connection made at The Meetings Show.
Lucinda
---
For more VisitBrighton Conference updates connect with Lucinda on LinkedIn
Find out more about PraxisAuril and the Brighton & Hove Food Partnership by following them on social:
Twitter - @PraxisAuril
LinkedIn - @PraxisAuril
Hashtag - #PrAConf22
@btnhovefood
Related
0 Comments