Today we welcome a guest writer to the blog as Jake Smith shares his review of Beacon Bikes...
E-bike the downs and glide uphill!
As a keen cyclist, I've always thought that part of the fun of riding a bike is that the joy of whizzing downhill rewards the effort you put into going up a hill. It has to be said though that my wife and kids don't necessarily feel the same and living in an area such as Brighton, surrounded by the beautiful, hilly, South Downs, does slightly limit the number of times that I can persuade the family to come out on a group ride, as well as limiting the routes we go on. My father too has been a keen cyclist throughout his life, these days he definitely struggles with hills whenever we ride together.
So when I was offered the opportunity to try out an off-road e-bike from Beacon Bikes in Albourne near Hassocks, I absolutely jumped at the chance. In fact, the hardest decision I had to make was who to bring with me. My sporty 16-year-old son was keen to have a go and does often accompany on Mountain Biking rides around Stanmer Park and on the downs, but I thought that it would be a better test of the e-bike to see what my wife, Joelle made of it, she's probably the family member who most dislikes riding uphill!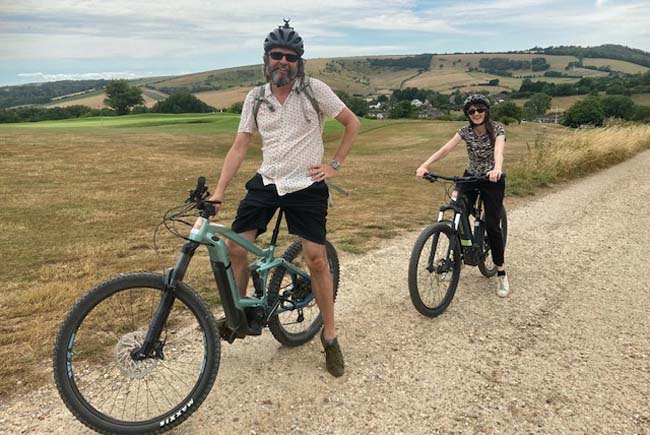 To help me decide on a route and who to bring, I spoke with John and Tim at Beacon bikes who, as keen mountain bikers themselves, set the company up to make it easier for people to enjoy the beautiful lanes and off-road trails around Brighton. They offered a load of fun-sounding options, but the one that really stood out for me was combining an off-road track with a wine tasting at Court Garden, a beautiful vineyard just outside Ditchling. Joelle was up for it too, so a fun kid-free day beckoned.
On a lovely sunny Saturday in July we made the short drive out to Hassocks, where on arrival I realised that I'd forgotten to bring any of my usual cycling gear (Padded shorts, gloves and a helmet) but John and Tim managed to sort both of us out with a decent helmet and as we were only going to be on the bikes for an hour or so, I wasn't too worried about being uncomfortable wearing my normal clothes.
We took advantage of the lovely cycling cafe at Beacon Bikes that was filled with other cyclists and had a coffee and a slice of flapjack big enough to sink a battleship (I took some of it with me for a snack halfway). Tim talked us through the route he'd planned: a nice simple ride, on a cycle track to Pyecombe then off-road on to the South Downs Way up to Ditchling Beacon, where we took the road down to Ditchling. It was perfect for a novice off-roader but still fun for someone more experienced.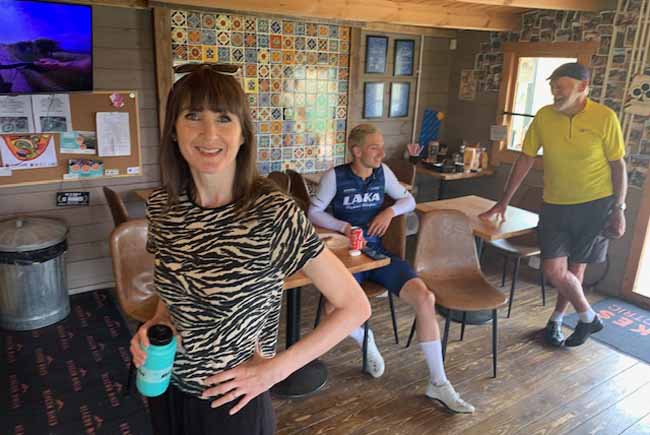 Coffee fix sorted, we were ready for the bikes, Tim made sure they were set up for us both and talked us through how they worked, we spent five minutes riding around on the astroturf pitch to get used to them. The bikes were excellent and we immediately felt comfortable, it was great to see a huge smile on Joelle's face as she realised how easy it was. Her smile was even bigger when we came to our first hill, on the cycle track taking us across the A23, riding up the relatively steep ramp to the bridge was no effort at all.
After about 10 minutes on the cycle track, we joined the South Downs Way at Pyecombe and straight away we were into the beautiful peaceful countryside away from the hustle and bustle of the city. The views are amazing and the e-bikes made it so easy, with the suspension taking care of the worst of the bumps and the big off-road tyres and disc brakes giving us lots of confidence riding on the varied terrain.
At Ditchling Beacon, we joined the road and enjoyed a fast descent down, (well one of us went fast) whilst feeling rather smug that we hadn't had to work as hard riding up as the groups of cyclists we passed who were riding up the Beacon! We made such good time that we had time to add on another 20 minutes or so on the lanes around Ditchling Common before arriving at Court Garden Vineyard for our tour and wine tasting.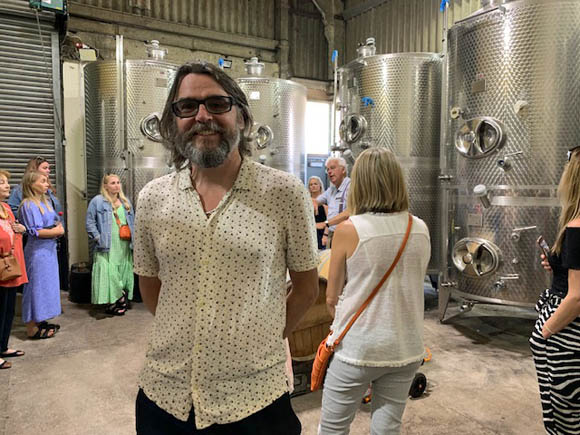 Just on the edge of Ditchling village, the vineyard is an idyllic spot that has been a farm since Saxon times and is a family-run business established in 2005. We were greeted and guided around by Howard who runs the vineyard with his wife and winemaker son Hugo. Our tour was made up of around 12 people and Howard showed us around the vines and gave us a really interesting and amusing history of the vineyard, and their wines. The tour was full of fascinating facts and amusing anecdotes including how the French aren't the only ones who know how to make delicious sparkling wine, as well as beautiful crisp white wines.
At the end of the vineyard tour we were picked up by Tim from Beacon bikes who had loaded the bikes onto a trailer and drove us back to the cafe in Albourne to collect our car.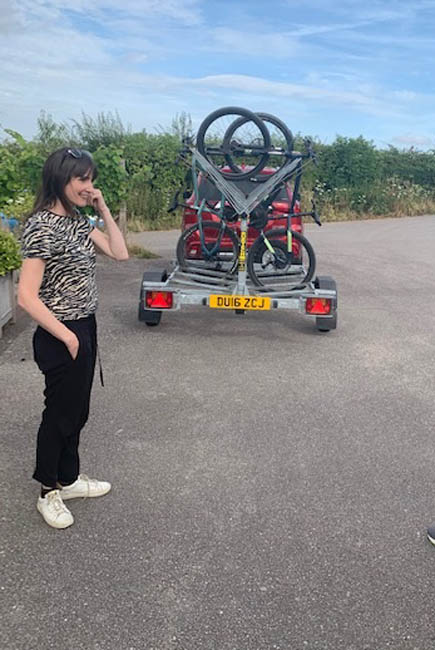 It was an absolutely lovely afternoon, we both agreed we'd love to do it again and also that it would be great for families, or groups who wanted to do something different to mark a special event. It's also heartening to see two brilliant Sussex businesses working together to offer something really different and fun just a stone's throw from Brighton.
Jake
Related
0 Comments