This winter we want you to create your own #BrightonWishlist and to help inspire you we are sharing wishlists from a variety of residents, each with their own reasons for loving Brighton.
Rhys is Head of Content at RestaurantsBrighton.co.uk and their resident vegan. When he's not tapping away at the lappy he'll be found, paintbrush in hand, in his studio. Rhys' #BrightonWishlist is a tour de food that flips the birdie at eating poultry.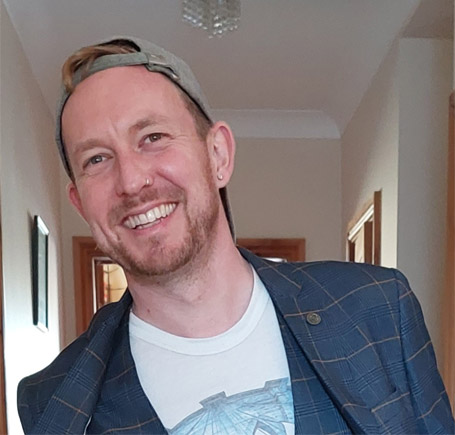 ---
Here's my festive #BrightonWishlist...
I've been drinking coffee at Redroaster for so long I think it's become part of my DNA. For a winter bottomless brunch, make mine plant-powered pumpkin and pecan pancakes with bubbles (but first I'll have a coffee).
I'll tell anyone who'll listen that I'm a dab hand at cooking a roast, but I've never got the hang of veganising a Yorkshire pudding. There's some alchemy at work in The Roundhill Pub, 'cause they've nailed the perfect vegan Yorkshire, alongside crispy roasties and a host of plant-based mains. They're a BRAVO Best Roast top-five winner for a reason.
I love Italian food (and thoroughly recommend Rome, Catania and Turin for vegans abroad). But when hopping over to Italy feels too much of a schlep I'll settle for my local Purezza on St James' Street and some ooey gooey calzone.
I'm not saying December was a particularly boozy month, but as a leftfield recommendation for a hangover cure, I'll go for a Smorl's. Delivered to my door so my head doesn't need to leave the sofa. These babies pack a list of ingredients that read like a weekly veg box for a family of six, slow-release carbs and a rainbow of vitamins.
For a night out that starts with food, I love Kitgum near Preston Park. The food is sharing small plates and about 50% vegan, the vibes are infectious (the kind you want to catch). You'll leave feeling fuelled but not overloaded and with a good level of chilli buzz to scoot you to your next destination.
For entertainment, I love the new(ish) Arcobaleno in Kemptown. Most cabaret nights are free to attend and you'll get to see a host of local talent. Sip Mean Girls themed cocktails and discover Brighton's only Maltese inspired menu (as far as I know). If your experience of drag begins and ends with Ru Paul, then buckle up - you'll discover a whole new world of drag at the end of this rainbow.
I couldn't finish this #BrightonWishList without tipping my cap to my favourite local, Haus on the Hill. We were there for a singalong on Christmas Day, before heading home for a lunch prepared by yours truly. With local pubs closing at an alarming rate and loneliness on an ever-ascending trajectory there's more reason than ever to make sure your local is for life: not just for Christmas.
---
Thanks Rhys!
Don't forget to join us on social to let us know what you have added to your #BrightonWishlist
Related
53 Comments