Cyan, the restaurant at The Grand, has launched a new spring / summer menu and we were invited to try it.
We were heading to the restaurant after work & in the afternoon I had a slightly panicked message from my boyfriend as he had forgotten to bring a change of shoes so he would still be in slightly muddy work boots, and he was worried this might be a problem. The reason I'm sharing this with you is that it actually raises a good point. I think there is an assumption that as the restaurant is located within The Grand then there will be a dress code. However, I was able to reassure my partner that the shoes would not be an issue, visitors are free to dress how they wish whether that's a formal gown or a pair of muddy shoes. Although my point was slightly undermined by the fact that as we were approaching the hotel, we saw a group of glamorous people in formal wear arrive. As it turned out they were there for an awards ceremony rather than a meal in the restaurant – phew!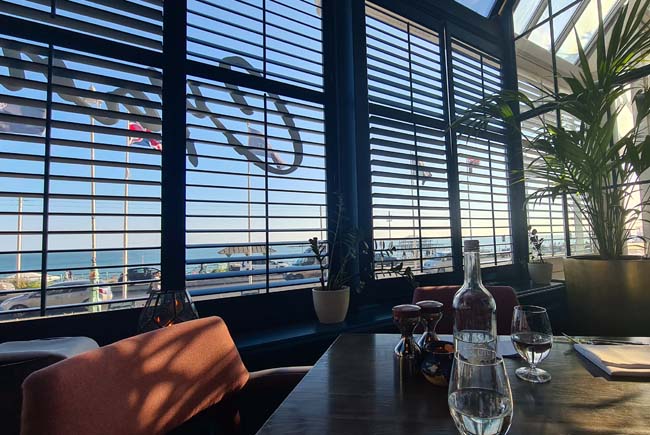 Brighton seafront really sparkles in the sunshine and so we were delighted to be shown to a table in the window so we could make the most of the restaurant's seafront location. It was lovely to sit back, relax and watch the world go by. We enjoyed watching the energetic runners, cyclists, and swimmers as we leisurely quaffed our wine. Speaking of wine, we opted for a Merlot, but it was good to see a wide range of Sussex wines on the menu, including a Sussex flight giving you the chance to sample a few different ones.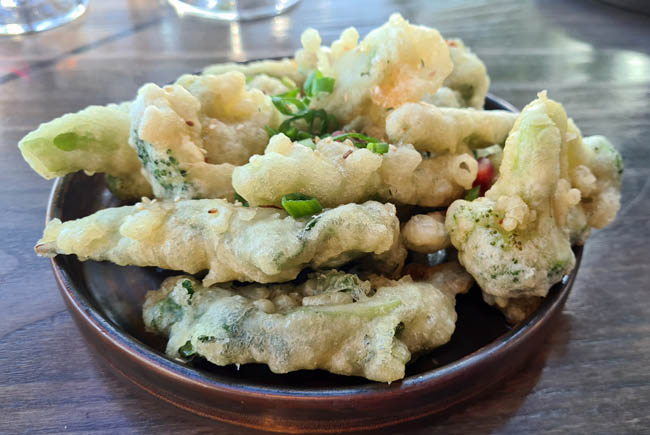 But what about the food? The new menu includes small plates and platters if you fancy sharing, but we decided to opt for a starter and a main, although we did of course still try a taste of each other's dishes. I chose the crispy tempura stems to start, mainly because I couldn't remember the last time, I'd had tempura. My partner went with the sticky glazed pork belly. The tempura was delicious, the batter was lovely & light. The pork was also scrummy served with kimchi and little dollops of tastiness – that's not how it was described on the menu, but they were tasty.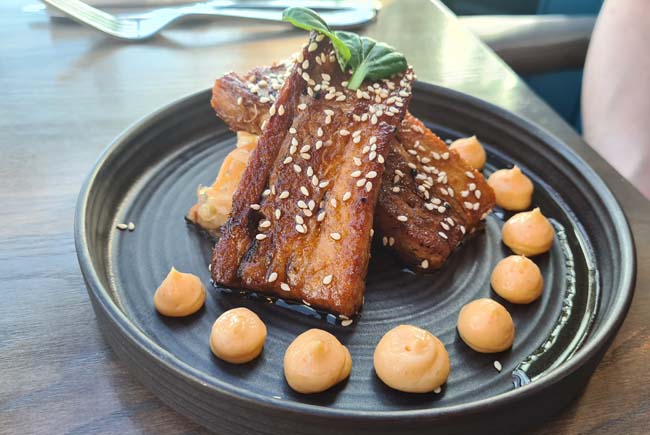 For the main course I decided to go for another dish I hadn't had in years – Lobster. The half lobster comes with frites and a saffron aioli although I decided to also have an extra side of French beans as they were cooked with shallots and bacon. The lobster was lovely, and the saffron aioli tasted as good as it looked. Although if you are prone to clumsiness, I would recommend moving your pot of aioli before you tackle your lobster claws. Otherwise, you may end up getting sauce on your fingers and /or lobster cracker. Not me of course, I'm a refined lady but I can imagine it happening to someone... Moving on! While the side dish wasn't necessary as I had plenty of food, I am glad I did go for them as the beans with the bacon were delicious, particularly the caramelised shallots. My boyfriend ordered the lamb which was two bone rack and confit leg served with carrots, potatoes, and radicchio. His plate was clean by the end of it so it's safe to say that he was also very pleased with his choice.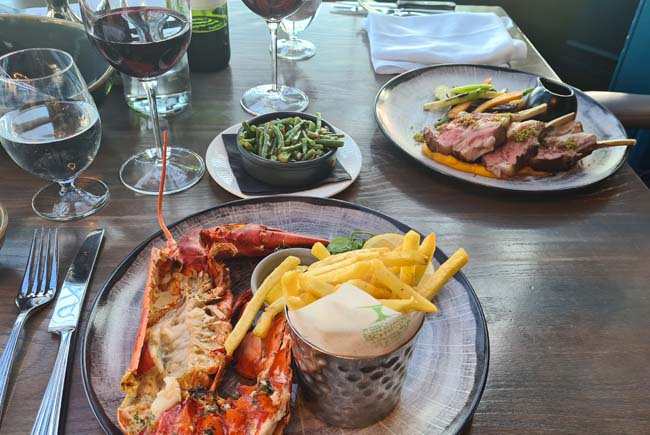 We both agreed that we could probably squeeze in a dessert, but it would be a bit of a struggle so instead we decided to order one of the seasonal cocktails to enjoy as we gave our dinner time to go down before leaving. This also meant we had a bit more time to enjoy the spectacular views. We could have happily ordered any of the cocktails so we asked our friendly waiter, Harry, which ones he would recommend. We took his advice and ordered a Hoppin' Horse and a Dame Ruby. The Hoppin' Horse includes a habanero infused bourbon so we were slightly concerned this might be too spicy but if anything, it could have been a bit spicier. It was lovely, long drink to end the evening on particularly with the warming hint of ginger. The Dame Ruby looked & tasted amazing; it probably wouldn't have been the one I'd have ordered so I'm glad this one was recommended to us as I loved the combination of sweet & sour.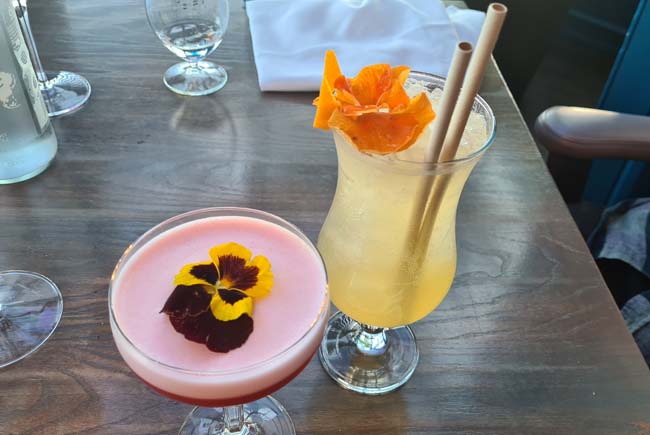 With our glasses drained it was time to tear ourselves away from the stunning view and the comforting surroundings of Cyan. Whether you are celebrating or simply fancy a midweek treat then this is an excellent dining spot. The new menu has a great selection of dishes and make sure you sample one of the cocktails too. We dined a la carte, but I was interested to see the restaurant offers a set menu which is a very reasonable £21 for two courses or £26 for three.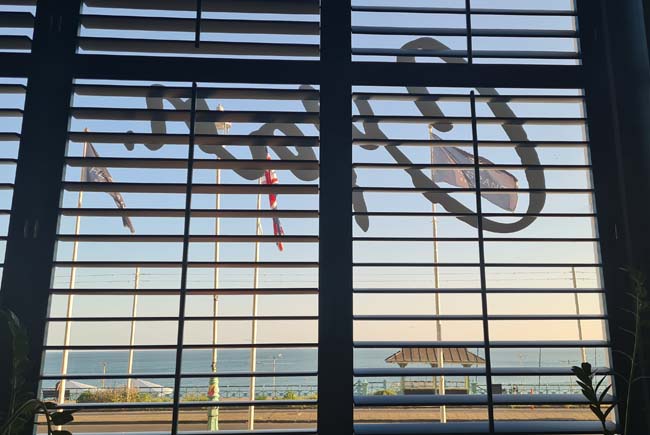 We'll certainly be going back to Cyan again although I think next time it will be for a Sunday Roast as a few people have recommended it and they do look scrumptious.
Charlotte
Related
0 Comments