Nothing was going to stop us, come rain or shine we were determined to try the Labyrinth Challenge at Leonardslee – the UK's largest inflatable obstacle course! Luckily, it was a warm day and there was a perfectly cool breeze in the air too.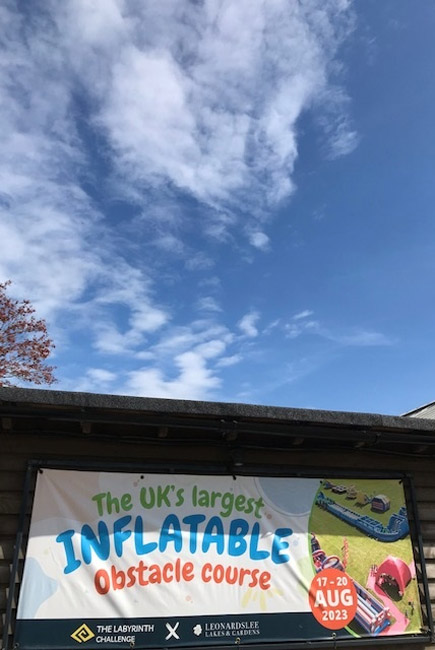 When booking up, I noticed there was a mini-inflatable assault course (under 1.2m) as well as the bigger one too. It seemed incredibly well organised from the point of planning to the actual day.
We were attending the SEN session with my young son and husband – another great idea from the organisers. As a mother of a child who has processing issues, it's not about the need to separate children with special needs but sometimes it's just more relaxing for the children and adults concerned. The big bonus for us, and the only real difference, was that the session was much quieter. Many people commented that they thought it felt inclusive and welcoming.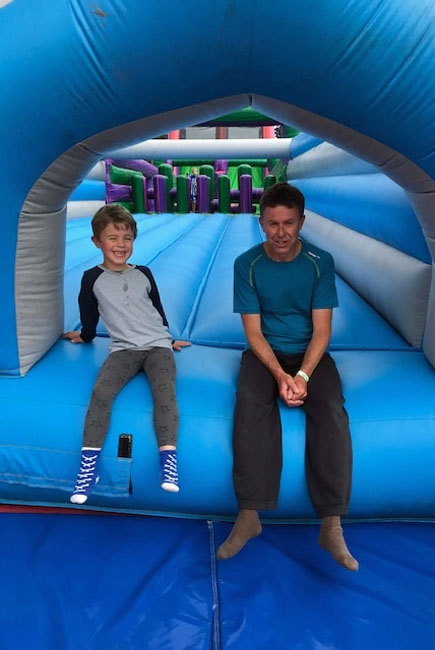 A buggy transporting people around seemed a good idea for the less able visitors who still wanted to watch. A grandfather of one child commented how happy he was to use the buggy as given the heat and the distance he wouldn't have managed to walk (not just to get to the course but also afterwards to see the lake too).
We were invited to hop on the buggy too and it felt like a perfect opportunity in the heat instead of climbing up and down to the lake. It was an added novelty too as my son loved sitting next to the driver! These buggies are run on other days too, I am told, so it is worth checking in advance for if you are visiting and in need of the transportation.
The labyrinth was a clever summer idea. Whilst I love meandering through the gardens and seeing the wallabies too, it's a way of entertaining the children and teenagers over the long summer holidays. Dare I admit it, I loved having an excuse to be a child again plus of course, the extra calories I burnt that day meant I could enjoy one of the delicious Sussex ice creams on offer. If I had done the course again another 3 times like my husband and son, I may have deserved one of the pizzas that were on sale too. Although if you feel you've had too many pizzas all summer by now with the children on holiday, there were steak burgers and crepes too – all were local brands which I was pleased to see although not surprised given that Leonardslee are still independently family-owned gardens and hotel themselves.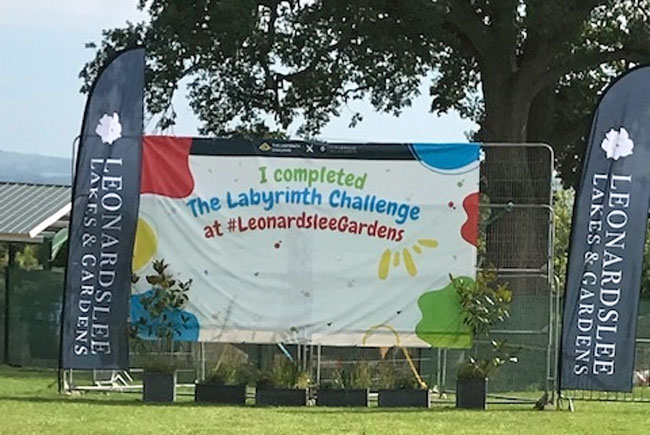 After attacking the assault course my son pointed out that we had time for some face painting too, meaning booking a one-hour slot on the inflatable course turned into a whole afternoon's activity. I could have whiled away even more time there quite easily, but the next day we were off on our summer holiday to Cornwall so had to make a move to get the packing finished. But I am so glad I made the time to see what this inflatable course was all about, and I really hope this event is repeated next year. All the families I spoke to on the day absolutely loved Labyrinth at Leonardslee, even though there was no sign of Jareth, the Goblin King!
Missed Labyrinth? Don't worry, there are so many more events all year at Leonardslee Gardens from open air cinema to outdoor theatre performances to calligraphy workshops to fungi walks to forest bathing to a model radio control boats and yacht display. See their events line up for more information. Look out especially for their Illuminated event returning this winter. Their magical light trail will be here all too soon so you can get into the Christmas spirit once more! I cannot wait.
To end, it's simply places like Leonardslee Gardens & House that make me love working and living in Sussex!
Marta
Related
0 Comments