Today we are delighted to welcome a guest post from 11 year Eliza who shares her review of Drusillas Park...
My name is Eliza and I'm 11 years old. I went to Drusilla's with mum, Xanthe (my sister who is 13), my mum's friend Lynn and her daughters who are our friends, Nicole (13) and Nina (10).
The first thing we saw were two sloths who live with turtles. The sloths hang upside down and were really sloooooooow. They have long pointy claws – they would look great with nail varnish on!
In the same bit there are loads of different types of small monkeys who are all so cute! One of them even had a baby monkey clinging on its tummy. They were adorable!
But even cooler were the meerkats who had baby meerkats too! They were all fighting apart from the baby mini-meerkats who were keeping lookout on their back legs. We watched them for ages and they were Nina's favourite thing.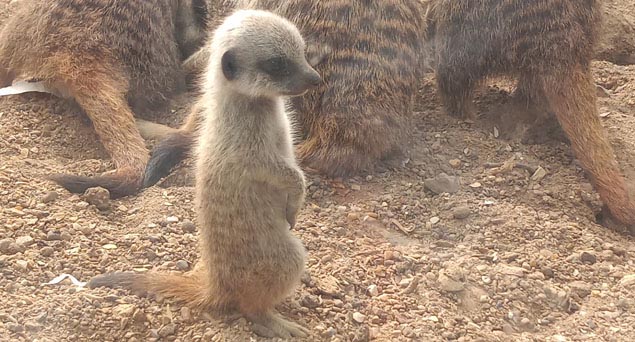 We went and had a go on the rides in the Hello Kitty Secret Garden which was brilliant. Even Xanthe and Nicole who are usually really cool came on the rides with me and Nina. My favourite was the cars which went round a track (I like quite slow rides) and the others loved the teacup which spun round really fast.
We had a picnic lunch to give us some energy to see even more animals as there is loads to see!
Xanthe's favourite animals were the porcupines and serval, which is a wild cat. Nicole kept going back to the red pandas who were quite shy and had climbed to the top of a tree. Mum LOVED the giant ant eaters who look really weird. The fur on their legs looks like they're wearing jumpers and they're massive!
Lynn really wanted to see the otters because she does something with wild animals for her job but they were asleep so we went to play on the Go Wild play area which is a ginormous climbing area with curly slides. It's really brill. Nicole and Xanthe were too old for the playground but they had a go on a human hamster wheel. Xanthe was really good at it and mum thought she would be too but she wasn't and fell over on her head and cut her knee. I think she was a bit embarrassed but pretended it didn't hurt.
We also went on the Safari Express train which goes all the way round the park. It's really good and there was a carriage where people in wheelchairs could get in so everyone can have a go. We had a slushy afterwards which was blue and red and ice creams. Next time we go we're going to try the donuts. When we were sitting eating we heard a loud speaker asking for parents of lost children to go and pick them up. Some parents ran to get their kids but others walked really slowly. It made us laugh.
Before we went home we went to check on the otters to make Lynn happy. It was amazing as we got there and all the otters were out playing! There's a mum and a dad and they've had kids who are now the same size as them and now they've had triplets who are tiny! The mum and dad and older brothers and sisters were carrying to babies in their mouths and throwing them into the water to make them swim! We were scared they'd drown but one of the big otters would dive in and make the baby float with their nose. It was the best bit of the day and we stayed for ages watching them. Lynn was super happy.
We went home and I was really tired. It was the best day of the summer holidays and we can't wait to go again. They have a Halloween Shriek Week and Monster Dash in October which will be amazing and scary. We all really want to go.
Thank you for a brilliant day Drusillas!
Eliza
Related
0 Comments