We've decided to get to know some of the people that help to make Brighton such a great place to visit - and today we speak to Will Furze, one of the rangers at Stanmer Park...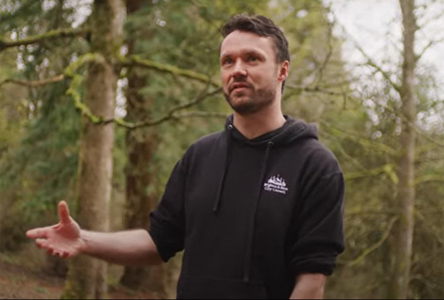 How did you become a Ranger?
I became a Ranger after having initially volunteered with east Sussex county council's trainee ranger scheme – I worked 4 days a week alongside the councils ranger team doing a variety of different practical tasks and working alongside their volunteers. The council put me through a variety of industry related qualifications such as basic chain sawing and I studied one day a week at Plumpton college in order to gain an NVQ level 2 in countryside management – the nvq actually carries more weight than my degree! Basically it's very hard to get a job in the industry unless you've volunteered in some capacity beforehand, thankfully I was very lucky that when my years trainee scheme came to an end there were 3 jobs going with BHCC, I applied and was lucky enough to get a job – I'm still here 12 years later!
---
What do you do on a typical day?
There isn't really a "typical" day in the life of a ranger! Usually the day starts with me checking my emails and picking up on any jobs which might need dealing with as a priority e.g. a tree down across a right of way, or a sheep with problems at marquee brow. I'm quite often out doing practical tasks with volunteers such as coppicing in the great wood, or another day I might be setting up the sheep fencing for our conservation grazing flock, on other days I'll be carrying out basic repairs around the estate such as repairing gates.
---
What's your favourite part of your job?
I have several favourite parts of the job, my first would be working up in the great wood, coppicing the hazel we have there, I love being in the woods and doing a job which has been done for centuries, I find it very peaceful and the results of the work are always great to see when the flowers come through the woodland floor in spring. I also enjoy working with the volunteers as you get to meet such a wide variety of people from such diverse backgrounds but who all share the same interest and passion in the outdoors!
---
What is your must-see for Stanmer Park?
My "must sees" for Stanmer would be the Great Wood and the bluebell display in early spring, followed by the downland wildflowers on Marquee brow over the summer months as there is usually a great display including several types of native orchid as well as our county flower, the pride of Sussex, Round headed rampion! I'd also say that people should check out all the different community enterprises we have at Stanmer up in the Stanmer Organics part of the site!
---
For people that are already familiar with Stanmer Park, can you tell us about any hidden gems which they may not be aware of?
Some hidden gems people might not know about at Stanmer are the arboretum, a formally planted tree nursery on the eastern side of the great wood, it contains lots of interesting tree species including a fantastic monkey puzzle tree. The bluebells in Millbank woods on the eastern side of the estate are also worth seeing as it's generally much quieter than the Great Wood.
---
What wildlife can you see at Stanmer Park? What is your favourite animal you've spotted?
There's a lot of different wildlife you might be lucky enough to see at Stanmer including squirrels, bats, owls, foxes, woodpeckers, buzzards, weasels etc. my favourite would probably be the green woodpecker which can sometimes be seen flying between the trees on the main drive.
---
What volunteering opportunities are there at Stanmer Park? How can people get involved?
We've got lots of volunteering activities going on at Stanmer both with the council and also with our partner organisations, activities could involve coming out volunteering with me carrying out practical conservation activities with the friends of stanmer park, helping Brighton permaculture trust tend their orchards within the park or helping special branch tree nursery lant and grow native trees, there's a huge variety of different opportunities – the best places to search for these are:
---
Have you ever handled a dormouse? 😊
I've been lucky enough to handle a dormouse on many occasions, both juveniles and adults, although unfortunately never at Stanmer! You have to have a special licence from Natural England in order to disturb or handle them, unless you are with someone who is already licenced which in my case was one of my ex colleagues from the east Sussex ranger team!
---
What do you love most about Brighton and The Living Coast?
What a love most about Brighton and the living coast is the mix between the urban and the countryside and how easy it is to get out in to the countryside from Brighton and many of the other towns within the living coast area. There's also a fantastic variety of local businesses and enthusiastic people
To find out more about Stanmer Park please go to: thelivingcoast.org.uk/stanmer-park
---
The photo of Will Furze is a still from a video about Stanmer Park produced for the Bio Heritage Cultural Tourism Project funded by the Interreg France (Channel) Programme.
Related
0 Comments