This week we had the privilege to go and see The Doctor at Theatre Royal Brighton, we found a truly thought-provoking play of vast scope that arrives at the heart of what it means to be human delivered by a cast who are slick, measured, and passionate in the face of an ever-shifting dialogue on what identity really means.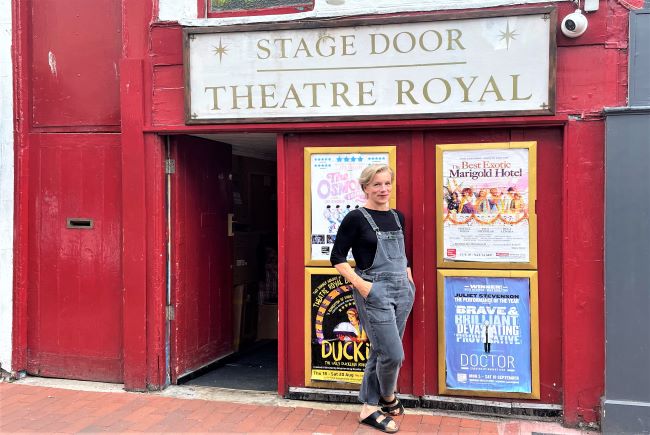 Directed by Robert Icke, the Doctor is a provocative, five-star Almeida Theatre production that is at the Theatre Royal Brighton from 5 – 10 September. Very simply put, the play is about a young girl who arrives at the hospital with her life in the balance, Dr Ruth Wolff is her assigned Doctor and in the absence of parents determines that a Priest who is trying to visit her patient to deliver the last rites should not be admitted, lest they upset the child's final hours.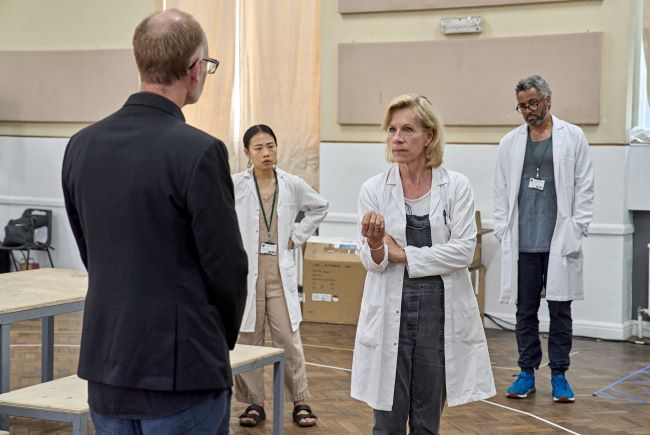 What begins as a fairly straightforward debate of faith versus science, soon grows to encompass all of our societal constructs and labels. This is a play that openly questions unconscious bias by allowing the characters to shift identifiers such as gender, race and religion leaving the audience without visual cues but with questions about whether those identifiers of gender, race religion are in fact needed to understand the argument that rages around the stage.
The simple stage set, an ordinary table on a revolving stage with several doors off the main stage ensured the audience was solely focused on the captivating exchanges in front of them. The stage moved ever so slowly, changing our shift of focus almost unperceptively and giving us a viewpoint from each actor. A lone drummer in a clear box suspended at the back of the stage above the action kept the beat and provided suspense and angst with a jarring soundtrack.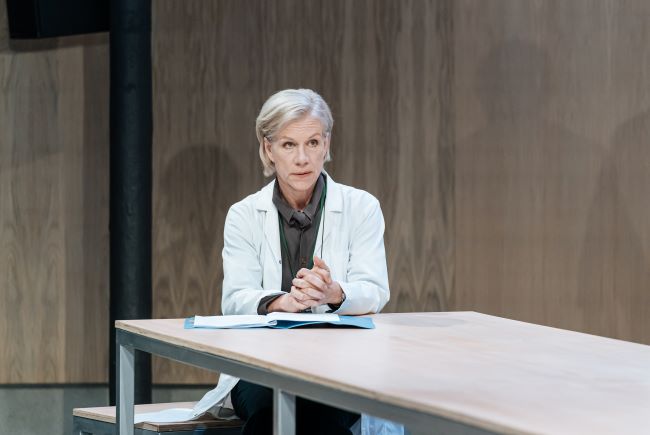 Juliet Stevenson's machine gun delivery rained bullets of clipped, controlled dialogue over the audience, leaving us in no doubt that the Doctor is in full control of our evening and the medical institution. The fallout from her decision to not allow the Priest in has consequences that are felt acutely by those present and absent from the event. The second act includes very clever close, camera work that enabled us to see all the emotion of the subject play across Dr Wolff's face, a moment of understanding captured in stark high-definition detail, Stevenson (as if we were in any doubt), shows us why she is so very highly regarded in her profession.
Timing is said to be one of comedy's most important constructs, but this same timing makes the drama shine with a complicated easiness of a well-oiled company. At once you are tumbled and turned, laughter smashing up against a poignancy that suspends your breath and leaves you wondering where the action will turn next. When Juliet Stevenson roars at her colleagues to sit down it is delivered with such anguish, every syllable enunciated with a deep, raw anger so fierce that the entire theatre looked to check they were not in fact standing by accident.
Antisemitic rhetoric runs like an undercurrent throughout the piece, ranging from overt Shylock references balanced with nuanced, more subversive, assumptions, still just as prejudicial. The play's origins help to understand the route of the juxtaposition of identity, written in 1912 by Arthur Schnitzler who described himself as "a Jew, an Austrian, a German" alongside a "Doctor-writer." Schnitzler eventually chose a literary career over a medical one and used that skill to explore the boundaries of identity, this is writ large in his work and it is up to the audience to question their own identity and where they would side in the exchange.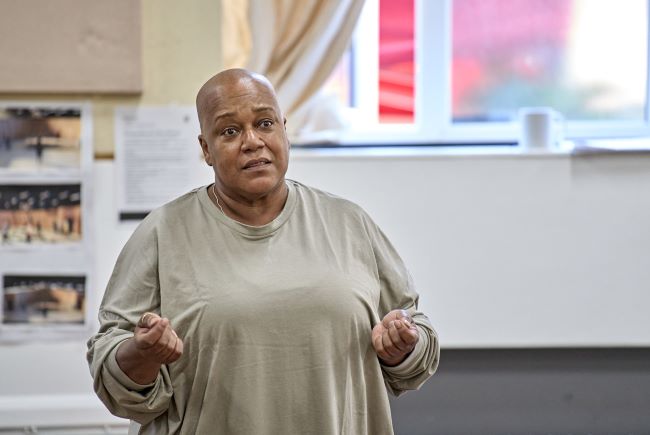 All aspects of identity and humanity are wrung out on stage and examined in the sharpest of detail leaving the audience just at the edge of uncomfortable about where their viewpoint sits on the scale. At once gripping and poignant, the Doctor is the rarest balance of never leaning too far in one direction. You will be left challenged, spent and changed in only the way a production such as this can leave you, I could write pages on this play and all the intriguing concepts it presents but essentially, I just implore you to go experience this for yourself.
Caroline
Related
1 Comments