Looking for 'hygge'? Head to Hoogly!
Hygge has been a popular concept for a number of years now and many people may have decided to embrace the movement as part of their resolutions. In theory I think it's a lovely idea, as it involves everyday togetherness and cosiness but being a naturally practical person, I couldn't help wondering how are you actually meant to achieve this?
Thankfully Hoogly Tea Lodge has embraced hygge to make it easy for everyone to be a part of this cosy culture. So, one bitterly cold, grey, January afternoon we decided that this was exactly what we needed to improve our mood. The lodge is just outside the city centre by Preston Park, so after a bracing walk, we were ready for a cup of tea and couldn't help smiling as soon as we arrived – well once the condensation had cleared from my glasses anyway!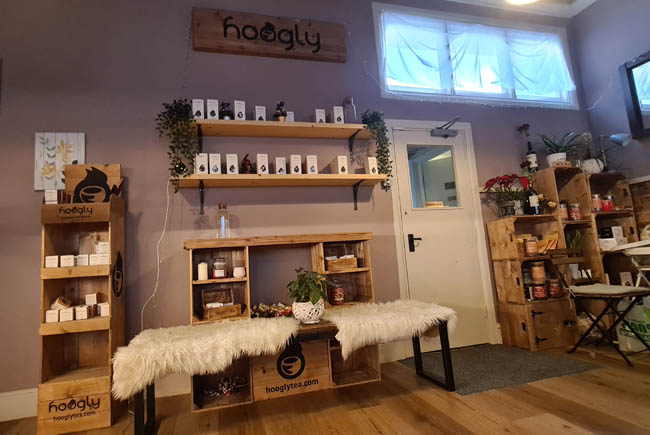 The lodge has a lovely, welcoming atmosphere, there are chairs covered in snuggly blankets and plenty of plants too. It really is an oasis of cosiness which helped us to forget about the grey skies, icy winds, and the January blues. Of course, to be truly cosy, you need a cup of tea and at Hoogly you are spoilt for choice as the menu features over 40 varieties! They have Black Teas, Lapsang Souchong, Herbal Infusions, Rooibos, Green Teas, and White Teas.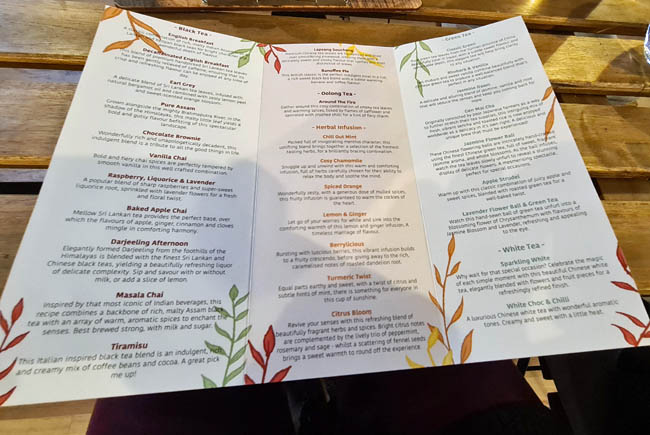 We took quite a while umming and ahhing over all the options and so we ended up deciding to try a couple of varieties. We had an Apricot Blossom white tea, Berrylicious herbal infusion, a Ginger Biscuit rooibos and Chocolate Brownie black tea (if there is chocolate on the menu then I'm ordering it).
As a marketeer I love seeing companies that not only have a great brand but also put it to good use. Hoogly have their own branded teapots, lidded mugs and even timers! I love it, it's a simple but effective logo and it all helps to add to the feeling of 'hygge'. Oh and the lid on the mug isn't just a lid, it's also a coaster!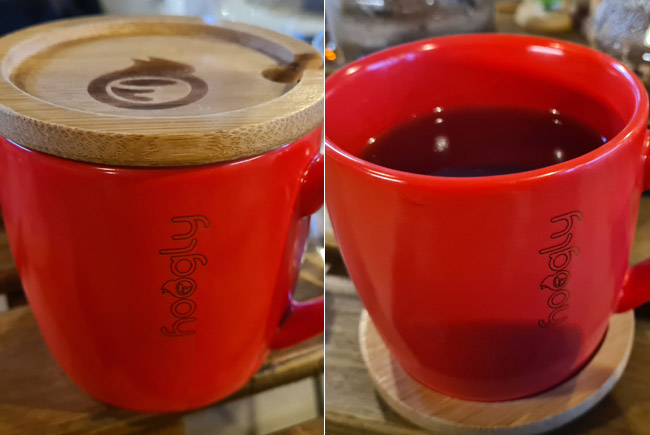 But what about the tea? They were all tasty but in the end the Ginger Biscuit was actually my favourite. The Chocolate Brownie had the most amazing smell, I'd almost be tempted to buy a jar of the leaves just to have that smell on hand, much better than potpourri. It did taste nice too, but it wasn't as chocolatey as it smells, although it would probably work well as an ice-tea in the summer. The Ginger Biscuit had that warming ginger flavour without being too fiery and was in-keeping with the hygge atmosphere which is why it was my top pick. The Berrylicious and Apricot Blossom were both tasty but being lighter and fruitier would probably be better as spring or summer beverages – although I may be over-thinking this!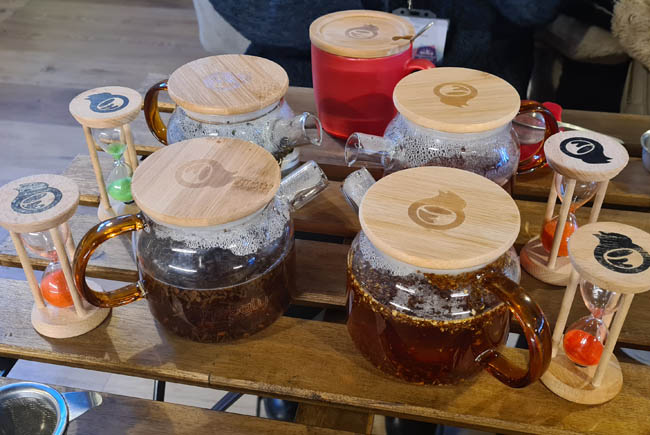 I didn't see it on this visit but apparently the lodge also has a courtyard, so I look forward to going back in the warmer weather to soak up some sunshine. I also noticed that takeaway teas are a bargain at £2 so if the courtyard is busy, I may grab a takeaway and then take a stroll through Preston Park Rockery.
But while the warmer days still seem a long way off, if you're looking for a hideaway from the winter chill then head to Hoogly Tea Lodge as this is the ideal place for a winter warmer.
Charlotte
---
Add Hoogly Tea Lodge to your #BrightonWishlist
Related
0 Comments