Vios is the perfect spot to sample fresh and delicious Mediterranean plates.
Chatting in the office about our lunchtime options led us to discuss Vios, a Mediterranean café that offers a great mix of small plates, fresh smoothies and granola bowls. We love trying new places and Vios had long been on our radar for team treats. With empty stomachs and high expectations, we finally headed there recently and got to enjoy the warm welcome from owner Philippos and Constantine.
You would think given our jobs we would be a decisive bunch, but we ended up ordering a few dishes to try out and share because we simply couldn't decide. Sitting inside on a spring day with the blossom in bloom outside, we could have been in a modern Mediterranean cafe, the food was certainly reminiscent of holiday dishes that you want to recreate. The look is scaled back and slick, this is not your stereotypical touristy place to eat but a bang up to date dining experience that offers old favourites aside newer dishes.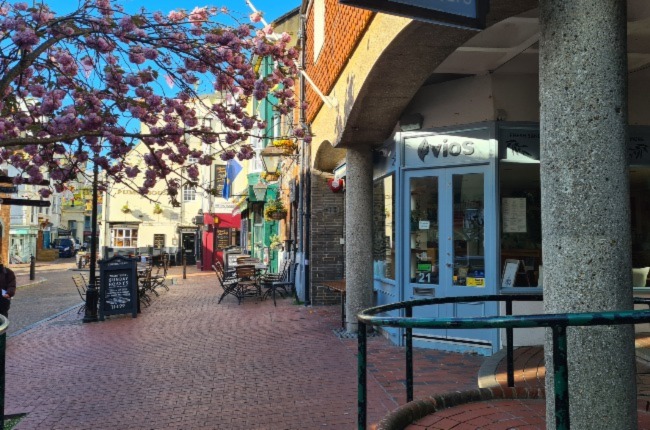 The menu had some fabulous options that I will be going back to explore, including wraps, salads and smaller plates, after a good debate we finally settled on a few dishes to share. We chose Dolmas, stuffed vine leaves jam packed with tasty rice and vegetables, proper freshly made hummus with big fat flavoursome falafels atop it. My standout savoury dish (I must mention the sweet section separately so need to be specific!) had to be the Greek beans with feta cheese. Sumptuous, large, beans sitting in a smoky tomato sauce was the perfect dish to start with, I could have eaten the lot, but sadly this is frowned upon when dining in a group, so I forced myself to share, next time I will order my own. Bruschetta with glossy tomatoes gleaming, was christened with herbs and gave the perfect garlicky hit and crunch from the toasted bread. This is the food of holidays and good times, perfect for sharing with friends (if you must).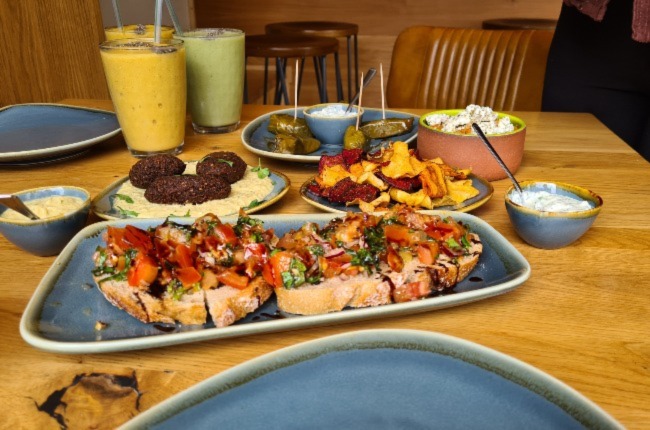 I can't believe I haven't told you about the smoothies yet, I usually avoid smoothies when out to avoid the over sweet, synthetic offerings you sometimes get, but the pineapple, coconut and lime option had my name written all over it and boy was I glad I took the risk, this would be a great alternative for a breakfast on the go or instead of a coffee in the warmer months. My colleagues ordered a green smoothie which was delicious but deceptively healthy, always the best combo.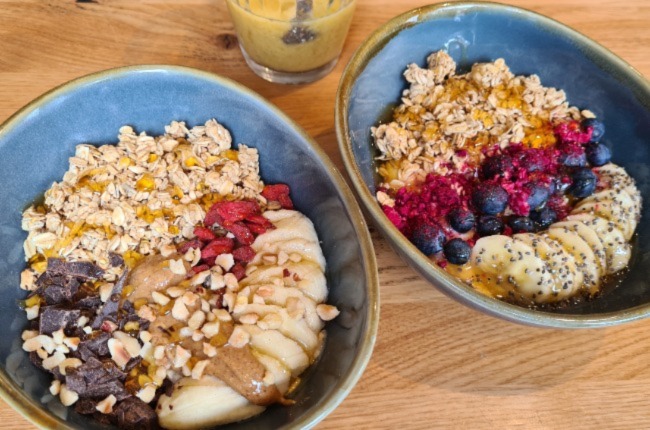 I cannot let you leave without telling you about the yogurt granola bowls. It has been a while since we visited, and I can honestly say I can't stop thinking about the choconut granola at Vios. Imagine the most beautiful looking bowl, packed with home-made granola, thick yogurt, dark chocolate and hazelnut nibs with some peanut butter thrown in. This felt so decadent whilst being reasonably healthy, the perfect choice for when you need extra energy, and I can imagine this being a part of future lazy brunches too. Overall, we were blown away by the fresh and healthy options Vios offered and aside of having to share the food and now being addicted to choconut granola, this is going to certainly be part of our lunchtime treat spots. See you in there – I'll be the one with the big bowl of beans! 😉 So next time you are in town why not #BrightonUp your day with a delicious meal at Vios?
Caroline
Related
0 Comments