Did you know that May is National Walking Month? The campaign celebrates the health benefits of walking more although in my case they are preaching to the choir as I love walking. In addition to the obvious physical benefits of walking I also find it a great way to relax and destress, which is why I think it's appropriate that Mental Health Awareness Week is taking place during National Walking Month.
Why am I telling you all this? Well earlier this week, I was attending an exhibition at the Amex stadium and afterwards I decided that in honour of National Walking Month and Mental Health Awareness Week I would forget dashing back to check the emails and instead go to Stanmer Park. I'm fortunate that my job takes me to Stanmer Park on a semi-regular basis however it is usually for a specific event or activity such as Forest Bathing or going to One Garden. This is no complaint as they have all been lovely experiences however this time, I wasn't meeting anyone else & I had no immediate time pressures, so I decided to simply go for a walk in the park.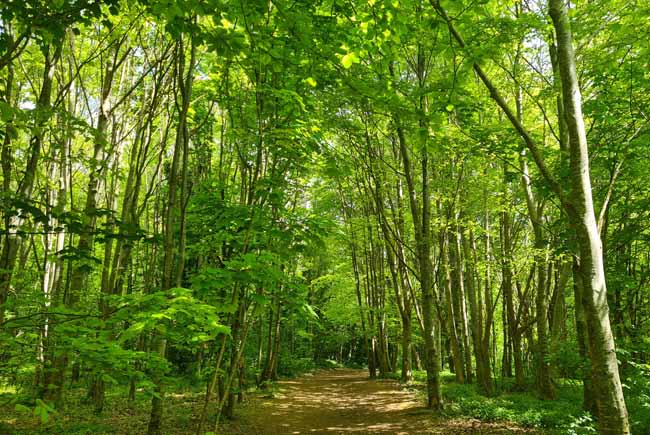 As mentioned, I love walking, whether it's an urban commute, a seaside stroll or a hike across the countryside I'll be happy. However, my favourite will always be a walk in a wood, I'm not entirely sure why but there is just something so soothing about being surrounded by trees. I have been known to get lost in a forest before so as I'm not so familiar with Stanmer I decided to follow one of the waymarked trails. There are three to choose from and as I wasn't in a rush, I opted for the longest one – the 5-mile Woodland Trail.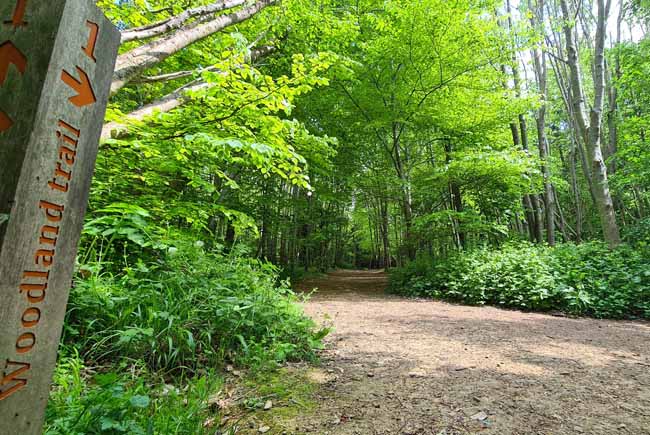 I'm pretty hopeless when it comes to directions, so I am very happy to report that this walk is well sign-posted. I have been on walks before where it starts off well and then suddenly the signs seem to vanish, and you just have to cross your fingers and hope you're on the right track. Thankfully this was not the case here, in fact at times it was a little spooky as just as I was starting to wonder if I was still on the right path a finger post would magically appear to reassure me!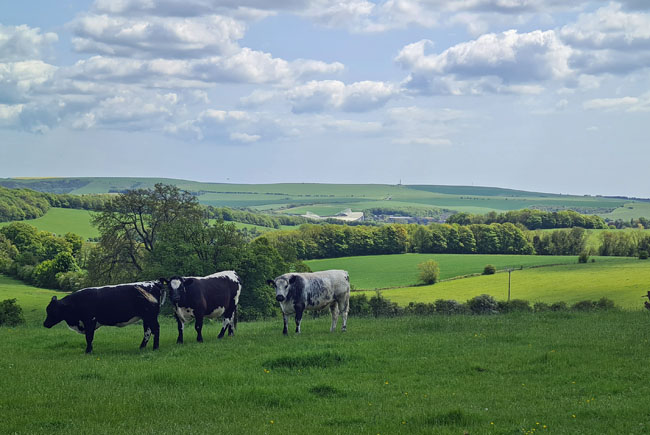 As the name of the trail suggests the majority of the walk is through the woods, there are a few moments when you cross a field and say hello to a cow or admire views of the village but most of the time you will be surrounded by trees. It was amazing just how quickly the noise of the busy road was replaced by gentle birdsong. It really is beautiful and as I knew I would be writing this post I was initially taking photos every few steps but after a while I made myself put the phone away and to simply enjoy my surroundings, taking in the colours and sounds of the woods. Logically I knew I was only a short distance from the city centre but it felt like I was a million miles away as all was calm and still.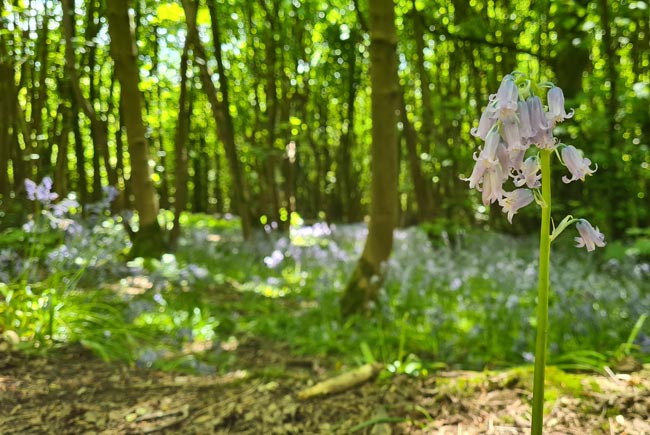 Walking along I was pleased to spot a few bluebells along the path as I had assumed I was too late to see them this season. However, I was delighted to turn a corner and discover a whole carpet of them! The flowers were not the vivid purple they would have been at their peak, but they still looked beautiful. Bluebells do seem to be universally liked as while I paused to take some photos I noticed two cyclists and a jogger do exactly the same thing, I think we all had the same cheesy grin on our faces too.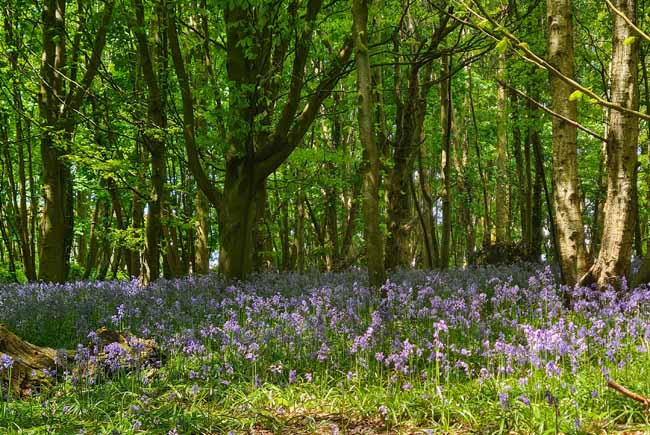 The trail is 5 miles and the map estimates this will take 90 minutes to complete although I'd be inclined to allow a bit longer than that as you are bound to want to pause to take photos, enjoy the view and, if you're feeling really zen, you may even feel the urge to hug a tree. Keep in mind this trail is open to walkers, cyclists and horse riders so remember to be aware of other users. A couple of times cyclists overtook me, but it was always with a friendly smile and a thank you. There are a couple of steepish sections but as long as you don't try to rush it then I think most people should be able to do this quite comfortably.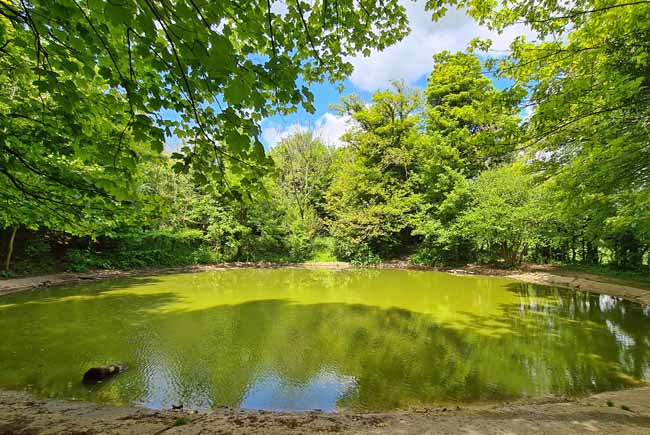 I thoroughly enjoyed my walk around Stanmer Park and will certainly be back again. If, like me, you are prone to getting lost then you may want to download the Sussex Walks app which acts as a sat-nav for footpaths as it shows your position on the map as you walk, and the app includes four Stanmer Park routes.
Getting There
There is no point in me urging you to visit Stanmer Park if I don't tell you how to get there! You can do as I did and get a train from Brighton to Falmer (you don't have to attend a conference at the stadium first though). There are four trains an hour and it's a 10-minute journey, when you leave Falmer go through the underpass and head left to the park entrance, it's about a 10-minue walk.
The 25 bus goes from the Old Steine and stops at the entrance to the park, there are buses every 5 minutes and the journey takes approximately 30 minutes. The number 23 also stops at the entrance to the park and runs from Brighton Marina, there are two buses an hour and takes about 40 minutes. The number 78 bus goes from the Old Steine into the park and on to Stanmer Village, there is one bus an hour and journey takes about 25 minutes.
---
However you get there you're bound to have a lovely time, enjoy a digital detox and take some time to relax. It certainly worked for me as it felt like I was smiling the entire time.
Charlotte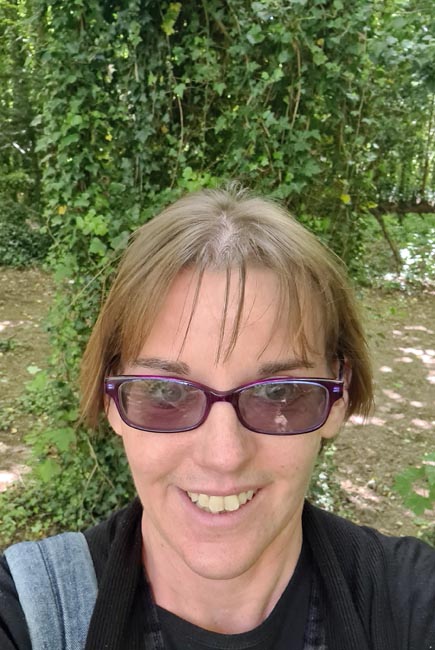 Related
0 Comments