Brighton has always been a creative, free-thinking city that has inspired numerous works of literature, here are some of our favourites to escape into whilst travelling to the city is prohibited.
Jane Austen – Pride & Prejudice, Brighton as a destination to escape to...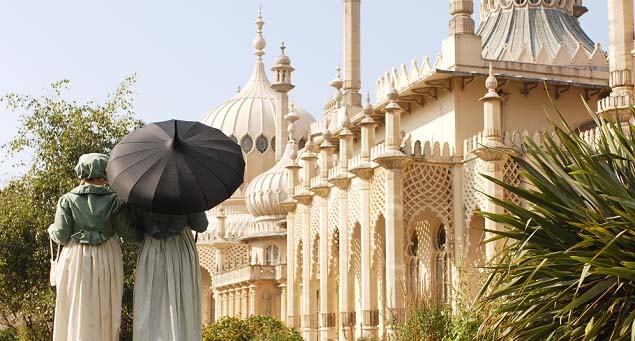 Brighton is referenced in Jane Austen's 1813 classic, Elizabeth Bennet's sister Lydia escapes to Brighton to be with her beau Wickham:
"In Lydia's imagination, a visit to Brighton comprised every possibility of earthly happiness. She saw, with the creative eye of fancy, the streets of that gay bathing-place covered with officers."
Transport yourself back to Regency Brighton with a virtual tour of the Royal Pavilion and delight in this 200-year-old seaside pleasure palace, built for King George IV.
→ Take a virtual tour of the Royal Pavilion
William Makepeace Thackeray – Vanity Fair – Revel in history at the Old Ship Hotel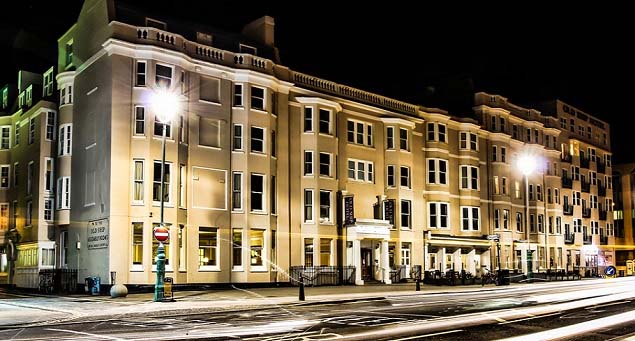 Brighton showcases as a honeymoon destination for Amelia Sedley and George Osborne where they stay at the Old Ship Hotel, one of Brighton's oldest buildings. Thackeray writes:
"Brighton, a clean Naples with genteel lazzaroni – for Brighton, that always looks brisk, gay, and gaudy, like a harlequin's jacket"
→ Fact: The Old Ship is the oldest hotel in the city and is believed to date back to 1559
Rudyard Kipling – Lived in the city where his beautiful gardens can still be visited today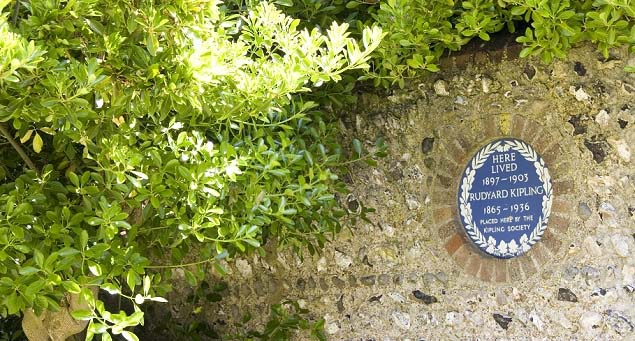 Kipling Gardens were once part of The Elms, where Rudyard Kipling lived from 1897 to 1902. Kipling rented the house for 3 guineas a week and it was here that he wrote Stalky & Co, Kim and some of his famous Just So Stories. The gardens were opened in 1986, when they were formally handed over to Brighton & Hove Council for the long-term benefit of residents and visitors, who can relax in quietness and seclusion within the beautiful surroundings.
→ Fact: Kipling rented the Elms for just 3 guineas a week
Lewis Carroll – Fall down the rabbit hole into Regency splendour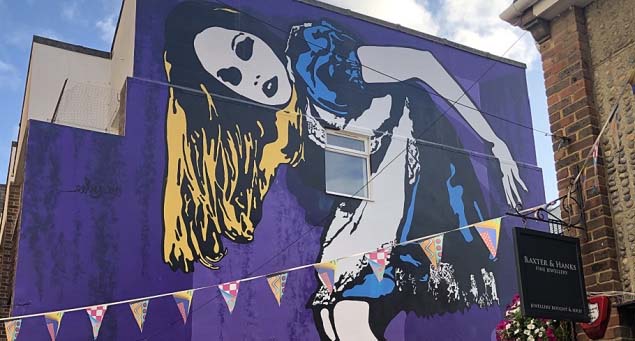 Lewis Carroll's sister lived in Sussex Square, Kemptown 1874 - 1887. Author of Alice in Wonderland, he was a frequent visitor and it is rumoured that the secret tunnel that runs from the gardens in the square to the seafront inspired the Rabbit hole. In 1887 it is said Carroll visited the Theatre Royal which is now one of the oldest theatres in the country.
Image credit: Hanningtons Lanes
Charles Dickens – Let the city inspire you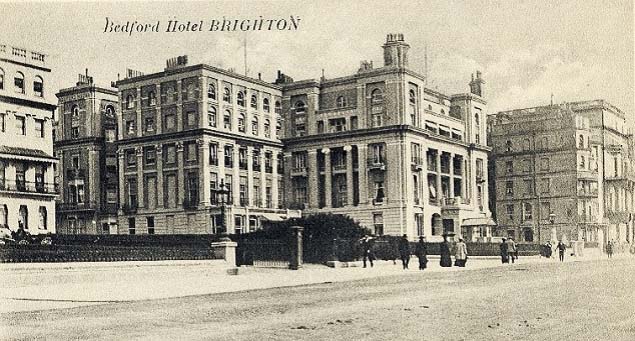 Dickens was a regular visitor to Brighton and loved it so much he visited often over a 30-year period. Brighton inspired his work and whilst staying at the Bedford Hotel, now the Holiday Inn Brighton-Seafront, he wrote Dombey & Son. Parts of Bleak House and Barnaby Rudge are also said to have been written whilst he stayed in Brighton. Always a place to headline, Dicken's tours in Brighton drew a big "fashionable" crowd and he even included Brighton in his hugely popular farewell tour. In a recently discovered letter Dickens wrote "I feel much better for my short stay here, also the characters one meets at these seaside places."
→ Fact: The novel The Life and Adventures of Martin Chuzzlewit mentions an ale by the name of the Brighton Tipper
The Bedford Hotel image courtesy of: Royal Pavilion & Museums, Brighton & Hove
Graham Greene - Brighton Rock, Suspense in the city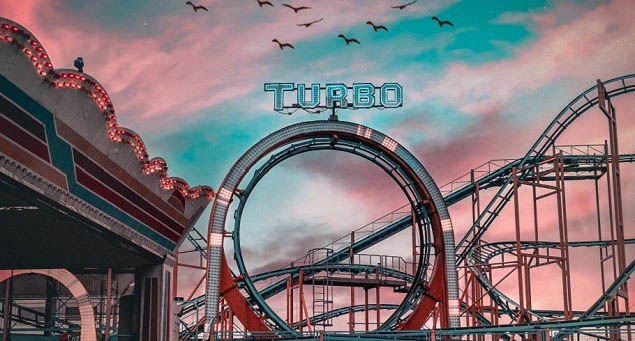 Greene's 1938 classic murder thriller takes place in Brighton, with the Palace Pier and the historic, famous Lanes as the backdrop to this grizzly tale of suspense, murder and unrequited love. The popular Cricketers Pub, one of the oldest pubs in Brighton is mentioned in the novel and subsequently the upstairs of the pub is named the Greene Room where visitors can find a wealth of Graham Greene memorabilia.
The iconic Brighton Palace Pier. Image courtesy of Stuart Pritchard
Ian McEwan – Sweet Tooth: Intrigue and espionage in the city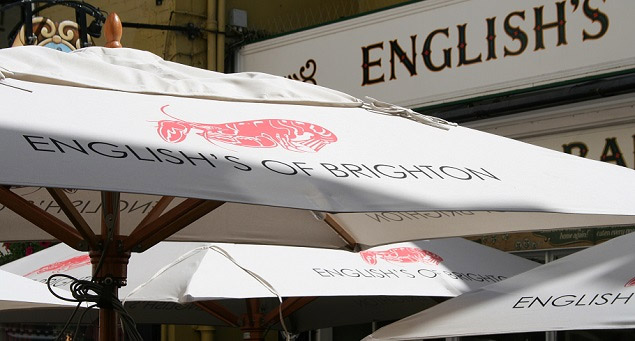 Set against the backdrop of the Cold War in 1970's England, Sweet Tooth follows Serena Frome as she falls into a role of espionage and romance with Thomas Haley. As he was once a University of Sussex student, McEwan accurately portrays Brighton in the 1970's and includes the legendary English's restaurant, a Brighton institution, where Serena and Haley regularly enjoy romantic dates.
Peter James – DS Roy Grace Series, Enjoy a dead good read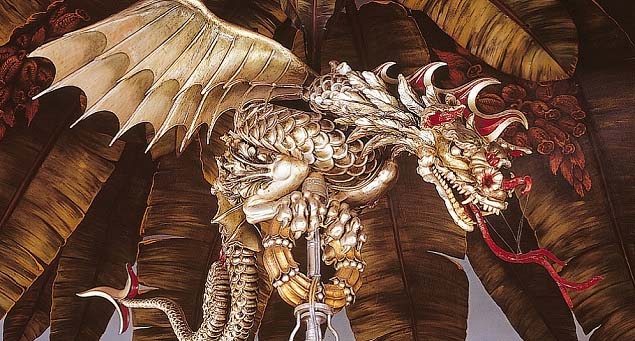 With over 20 million copies sold and a choice of 16 books in the DS Roy Grace series, you'll be spoilt for choice with these tense tales of crime and suspense. All set around the city of Brighton, these well researched page turners follow the haunted Detective Superintendent Roy Grace, as he works on the most intriguing cases, whilst also trying to find his missing wife, Sandy. One of our favourites is Not Dead Yet which uses the Royal Pavilion as a backdrop, it gives an insight into the behind the scenes working of this fascinating building. Plus, with a new ITV drama starring Jon Simm in the lead role as the troubled detective coming this year, you can see all the landmarks as well as read about them.
→ Fact: Peter James' books have been translated into 37 languages
The Stunning dragon chandelier that crashes down in Not Dead Yet. Image courtesy of: Royal Pavilion & Museums, Brighton & Hove
Bethan Roberts, My Policeman - Fall in love with the romance of the city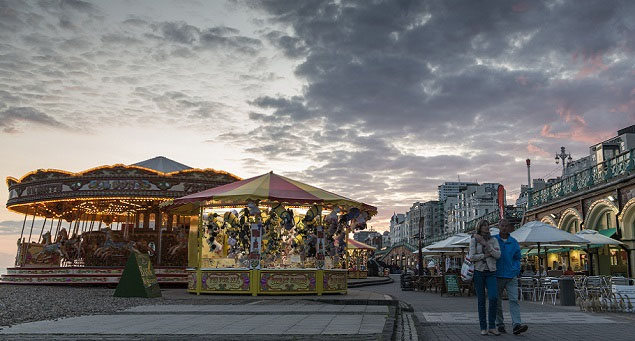 Chosen as Brighton's City Read in 2012, My Policeman is set in Brighton in the 1950's. This tragic tale of a complex relationship between Tom (The Policeman in the title) Patrick who is a curator at Brighton Museum & Art Gallery and Marion, sees Patrick and Tom fall in love at a time when homosexuality was illegal. The dual narrative arrives at a chilling conclusion, this is a beautiful portrayal that brings the Brighton of the 1950's to life in fantastic detail.
To see an interview with the author of My Policeman click here: https://www.youtube.com/watch?v=DpVFKwn5p7o
Graham Swift – Here we Are – Revel in the magic of the city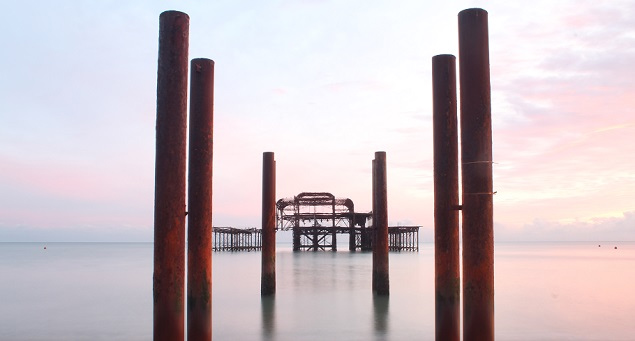 The Booker prize winning Graham Swift's most recent novel follows three characters who dream of playing on the end of the Pier in 1950's Brighton and follows their complex relationship to the present day. A great insight into the end-of-the-pier vaudeville scene in Brighton that was not too dissimilar from the life of Max Miller, a famous Brighton born figure who was known as the "Cheekie Chappie" Miller was a music hall legend, he even played at an alfresco theatre on the beach.
→ "Theirs was a Brighton romance, that they'd met on the end of Pier as it were and plighted their troth to the sound of the waves. But let Brighton believe it."
The Hauntingly beautiful West Pier that once housed a theatre which many acts wanted to headline at. Image courtesy of Tushar Garg.
Caroline
Related
0 Comments