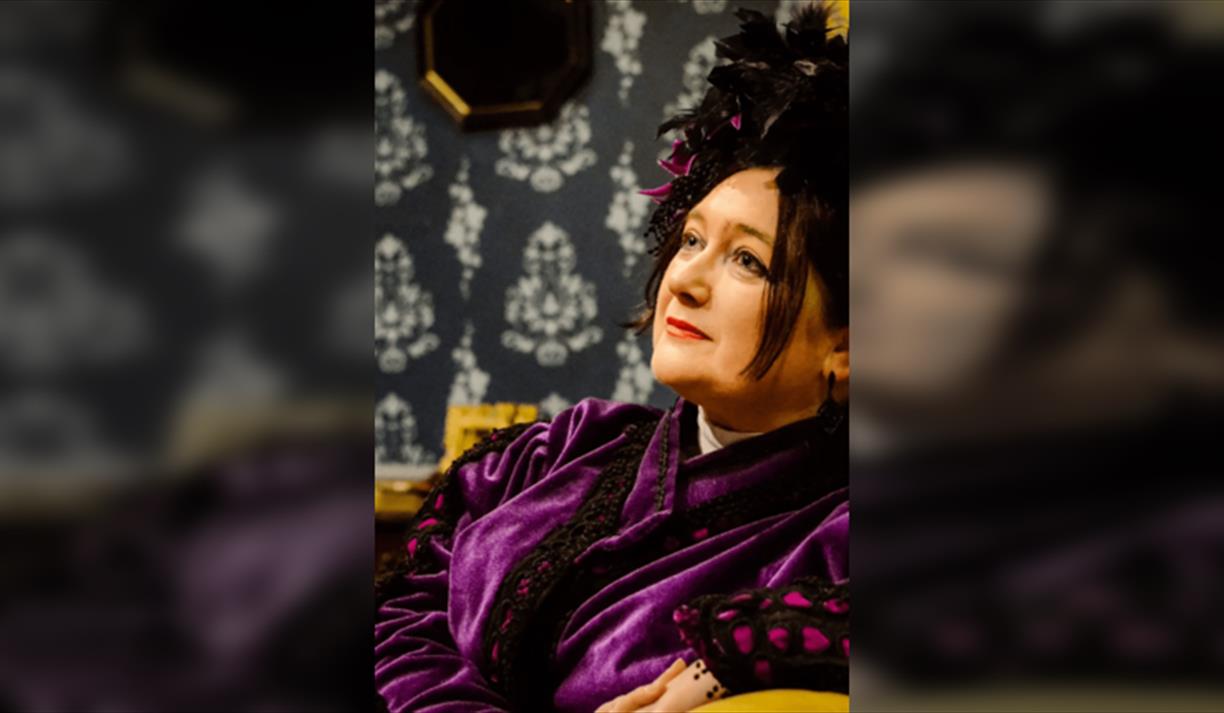 About
MARIE LLOYD STOLE MY LIFESCANDAL, STARDOM AND SUFFRAGE – WITH SONGS!
It's 1886 and 15 year old Marie Lloyd is about to become the "Queen of the Music Hall" but at what cost, and to whom…?
Meet Nelly Power - She's a big star with a life more dramatic offstage than on and she's about to lose everything thanks to her terrible taste in men and the machinations of an up and coming new teenage sensation. None other than Marie Lloyd herself!
In the true spirit of all comedy based on tragedy, Nelly tells the story of her life and career with amusing anecdotes and a wry sense of humour. This is an hilarious and poignant real-life tale of female empowerment in a patriarchal society, along with ageism, sexism and many other factors that haven't changed in 150 years. Let us take you back in time to tell, through the eyes of the now-forgotten Nelly Power, the story of how the Queen of the Music Hall came to fame. All together now….
"the audience…. witness the powerful presence of a star performer", Mark Aspen Reviews
"intricate, delicate dialogue, delivered with heart-breaking warmth", Mumble Theatre Press"
"a beautifully written play", LouReviews Blog
Running Time: 75 minutes
Performer: Lottie Walker as Nelly Power
Playwright: J. J. Leppink
Book Tickets
Guide Prices
| Ticket Type | Ticket Tariff |
| --- | --- |
| Standard | £10.00 |
Note: Prices are a guide only and may change on a daily basis.
Opening Times
Marie Lloyd Stole My Life

(5 May 2023)

Day
Times
Friday

19:30
Marie Lloyd Stole My Life

(6 May 2023)

Day
Times
Saturday

19:30
Marie Lloyd Stole My Life

(7 May 2023)

Day
Times
Sunday

19:30
What's Nearby
The Brighton Zip is the longest zip line on the south coast and an amazing experience for…

0.11 miles away
Come along and follow in the footsteps of the Victorians in a stroll along the pier, a…

0.2 miles away

Planning on visiting the amazing Brighton Pier?...If so, click here to get the latest…

0.21 miles away

A rock 'n' roll riot, a smashed sweet shop, and a secret undercover reporter create the…

0.21 miles away

While there are plenty of reasons to see Brighton, most don't realise one big benefit is…

0.22 miles away

Bustling Brighton & Hove promenade is perfect for a leisurely stroll where you will could…

0.25 miles away

Alcotraz is an immersive theatrical cocktail experience of the highest kind. From your…

0.26 miles away

Brighton City Sightseeing Tour takes you to visit one of the south-coast's most vibrant…

0.27 miles away

A beautifully restored routemaster will take you on a tour of Brighton & Hove whilst…

0.3 miles away

The spectacular seaside palace of the Prince Regent (George IV) transformed by John Nash…

0.31 miles away

MyCharleston runs fun & friendly adult dance classes in-studio, live and online. We…

0.31 miles away
Previous
Next